A concert by Henry Tozer: pieces from the Great American Songbook
Date: Saturday 25 November 2023, 7.30pm
Location: Clare Hall, Herschel Road, Cambridge CB3 9AL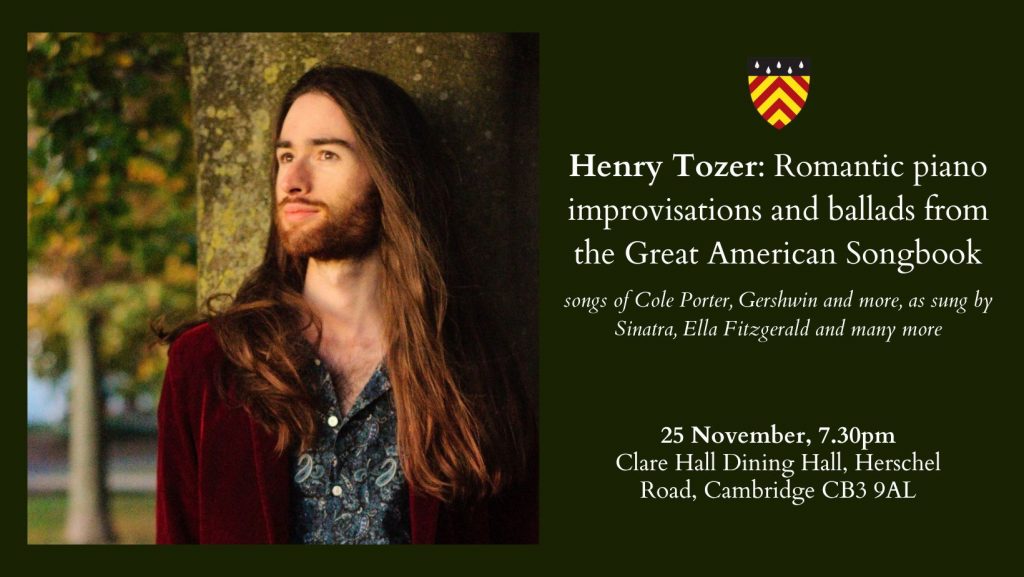 Tickets can be purchased through Eventbrite.
When discussing the roots of Jazz, Blues is perhaps the first genre mentioned. Yet the music that jazz musicians improvised on was mostly from the vast corpus of popular songs, particularly those of the 1920s, 30s and 40s written by composers such as George Gershwin and Cole Porter. These songs synergise influences from blues, folk and classical traditions, and within their interpretations in the 1940s by artists such as Frank Sinatra, Doris Day and Ella Fitzgerald a definite influence and expression of Late Romanticism is revealed.
In this concert, Henry Tozer will perform a selection of these "jazz standards" in his own preferred style: accompanying himself at the piano, weaving together Romantic styles with subtle jazz harmonies and the occasional blues lick. These timeless songs will be interspersed with original compositions in the form of piano improvisations and songs.
A recent performance by Henry can be found here.
---
Non-College members can join our events mailing list to be the first to hear about upcoming concerts, exhibitions and lectures at Clare Hall:
---