Graduation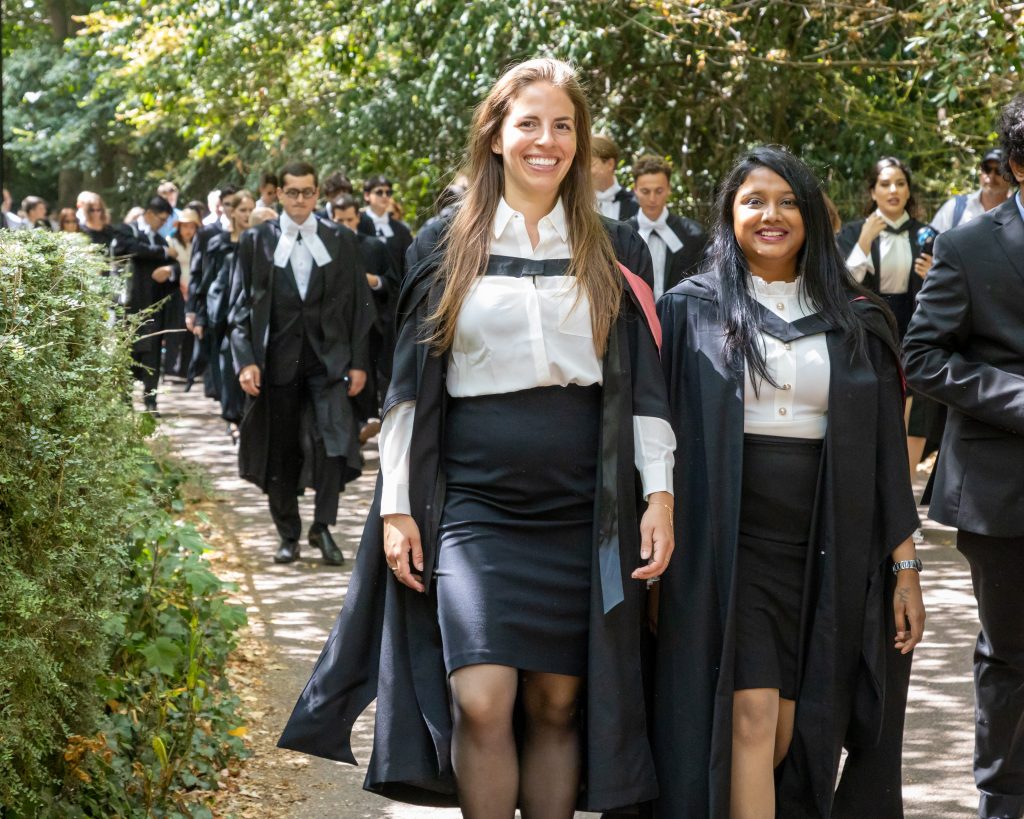 Graduation dates
Once you have been informed by the University that you have been approved for your degree, you are invited to sign up for any of Clare Hall's forthcoming graduation dates:
The following dates are planned in 2023. Autumn dates will be confirmed when announced by the University.
29 April 2023
20 May 2023
22 July 2023
You sign up for Graduation by filling out the Graduation Form, which should be submitted to the Tutorial Office by emailing tutorial.office@clarehall.cam.ac.uk. The latest date it is possible to sign up is the Thursday a fortnight before the ceremony. However, we encourage registration as a soon as possible as we have a restriction on the number of graduands we can present at some of the more popular congregation dates.
---
In person/in absentia
Normally, you have the option to graduate in person or in absentia. If you choose to graduate in absentia, you will not be able to return at a later date to graduate in person.
If you graduated in absentia during the pandemic while no in-person graduation was possible, you can now attend a congregation to celebrate your degree.
---
Congregation at Senate House
The exact timings of the ceremony will be circulated to graduands by the Monday morning preceding the Saturday congregation. Clare Hall tends to be timetabled in the afternoon, but this can change.
---
Gown information
Here is some guidance on how to pin a hood onto a gown.
---
Guest tickets
Guests are permitted to attend the Senate House and are welcome at the graduation dinner in College the evening before. Each student will be allowed two guest tickets to Senate House and two guests to the graduation dinner.
---
Guest rooms
If you require a room overnight for your guests, please complete our accommodation enquiry form.
---
Graduation dinner
See your letter from the Tutorial Administrator for arrangements for the graduation dinner, which takes place the night before graduation. Please note that each graduand is permitted to bring a maximum of 2 guests (in addition to themselves) to the dinners.
---
Salje Medals
These are awarded annually to two research students (one in Arts/Humanities and Social Sciences and one in the Sciences) whose completed PhD thesis and publications merit high commendation.
For those who had their degree approved during the calendar year 2022 and wish to be considered for a Salje Medal, please submit the following to the Tutorial Office by 31 March 2023:
• a summary of your thesis topic (up to 400 words in clear, non-specialised English)
• your examiners' reports
• a CV of your publications and other academic activities.
The medals will be presented to the award winners at a reception prior to dinner on Wednesday 31st May.
The details of the winners from last academic year .