Biber: Sorrowful Sonatas & Scordatura Meditations from the Rosary Sonatas, with Daniel Pioro (violin) and James McVinnie (chamber organ)
Date: Saturday 28 October 2023, 7.30pm
Location: Robinson College Chapel, Cambridge CB3 9AN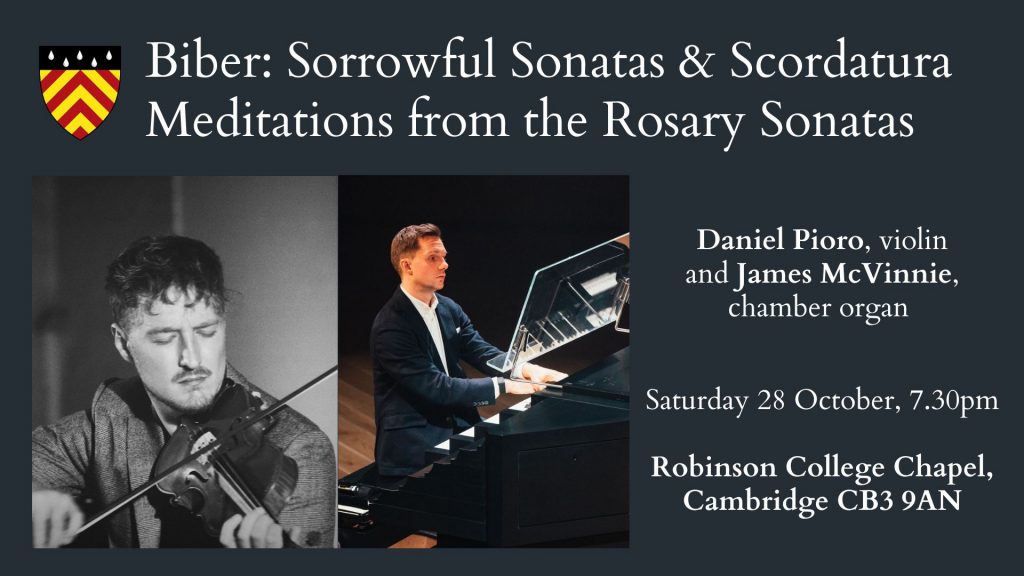 Biber's Rosary Sonatas have become an iconic work of the Baroque violin literature. Composed around 1676, they were not discovered until their first publication in 1905. They make extensive use of the "scordatura" technique, which is a non standard way of tuning the instrument, brought here to a unique degree of sophistication and complexity, giving the work a uniquely expressive sound world. This programme focuses on the Sorrowful Mysteries Sonatas which is the heart of the cycle, and is performed by Daniel Pioro, who won great acclaim when he performed the complete Rosary Sonata in the Southbank last year.
£20 General Admission, £15 Clare Hall members, £10 students and children
Tickets can be purchased via Eventbrite.
Meet Daniel Pioro:
---
Non-College members can join our events mailing list to be the first to hear about upcoming concerts, exhibitions and lectures at Clare Hall:
---