Bubbles Workshop
Date: Thursday 26 October 2023, 8pm
Location: Anthony Low Bar, Clare Hall, Hershel Road CB3 9AL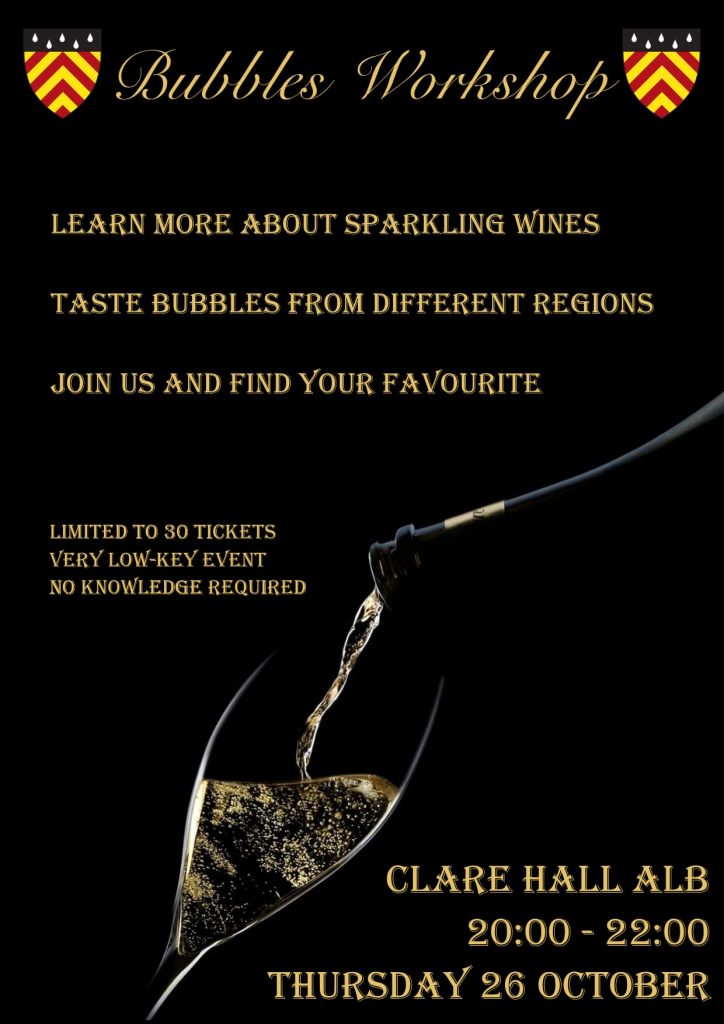 How did you celebrate that you made it to Clare Hall? Maybe you too popped a bottle and had some sparkling wine to cheer to this life-changing moment!

Every now and then we would like to celebrate a birthday, promotion, being with friends and family, or the start of the New Year. And sometimes we want to drink some sparkling wine on these occasions. But how nice would it be, if we would actually know, which sparkling wine we like? Is it Prosecco, Crémant, Champagne, … , or maybe even German Sekt?
On October 26th, we will let you explore the world of sparkling wine in a special GSB Bubbles Workshop from 20:00 to 22:00 at the ALB.
Our Clare Hall visiting student Max Kiss, former president of a Wine Association in Zurich, will give us an introduction into sparkling wines.
It is going to be a very low key event – so no expert knowledge is required!

You will learn about
– how different sparkling wines are made,
– how to taste wines in general, and
– how eight different sparkling wines distinct themselves in style/taste, grape varietals and regions of production.
All you have to do is sign up for the event with this Google Form; Deadline: Friday, 20 October, 11:59 PM.
Everyone is welcome to join: from beginners to people with a solid wine knowledge or experts for sparklers.
Please note that there is a limited number of 30 places – so sign up quickly!
The form will be kept open to establish a waiting list and we will inform the first 30 people that signed up on Saturday, 21 October, via email that they got a spot.
---
Non-College members can join our events mailing list to be the first to hear about upcoming concerts, exhibitions and lectures at Clare Hall:
---