'After Nature' by Jonny Church and 'Rocks from Yon Hills' by C.N. Liew – an exhibition of landscapes
Date: Friday 25 November – Thursday 5 January 2023
Location: Clare Hall, Herschel Road, Cambridge CB3 9AL
Details: Open daily from 10am - 5pm; admission free
Clare Hall Art Committee is proud to present two exhibitions inspired by landscapes, exploring the tension between the environment and the influence of man. Oil paintings by Jonny Church are juxtaposed with ink art by C.N. Liew in Clare Hall's Main Site.
After Nature
Following a conversation with Jonny Church, Frances Spalding, Chair of Clare Hall Art Committee, shares the following:
'Jonny Church is a local artist, living in Cambridge. His interest in landscape has led him to explore how representation and abstraction can intersect, at times suggesting both existence and non-existence. This liminal space offers a sensory threshold between traditional representative art and the abstract concerns of line, shape, pattern, colour and form. While constructing his pictures, he often treats them as palimpsests, building up layers of paint that are then partially erased, sometimes effaced, scratched and scored. Yet, erasure is never merely a matter of making things disappear; there are always traces of previous mark-making – some bruising the surface of the canvas, others a reminder of the original mark or of a gesture once made. Whether rubbed away, scratched or effaced, the rejected entity returns; an ethereal record of a presence in time.
Having grown up on the Welsh borders and studied at Aberystwyth School of Art, surrounded by mountains and wild seascapes, Jonny Church has been greatly influenced by time spent in nature. If in his art specific lines and forms are taken from the environment, they re-emerge as abstract or semi-abstract ingredients within the overall organisation of form in space, as he seeks to convey both the conspicuous and the intangible in his surroundings. As the paintings unfold, their materiality often obstructs, disrupts, and interferes with the emerging image, and unstable narratives are revealed as a series of gestures, actions and traces.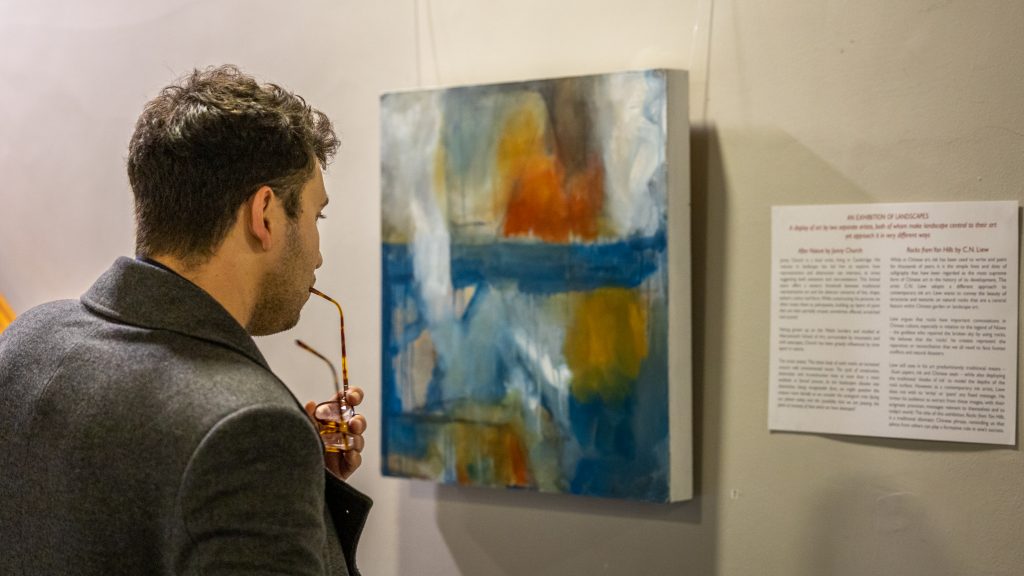 The artist states:
This latest body of work marks an increased concern with environmental issues. The cycle of construction, destruction and re-construction hints at more than a mere aesthetic or formal process. As the landscapes dissolve into abstraction, losing recognisable form, we might question this erasure more literally as we consider the ecological crisis facing our planet today; and the possibility that we are passing the point of renewal, of that which we have destroyed.
Rocks from Yon Hills
Clare Hall Life Member, Mun-kit Choy, has curated C.N. Liew's work within this exhibition. He comments:
'I would like to begin by explaining my association with Clare Hall. I first arrived at the College in 2003 to begin my doctorate study. It was a mundane morning in January when I dragged my luggage into the main building. It immediately gave me the feeling of a Chinese quadrangle (siheyuan) upon entering. While I am not suggesting that Ralph Erskine assimilated Chinese influence in his innovative design, he had nevertheless expressed a community spirit in a collegiate building that converged, inadvertently, with a tradition in Chinese architecture – that of housing extended families in the same compound. While walking through the College's brick buildings, enclosing passages and courtyards of varying shapes and sizes, I imagined how the serenity of this setting would be even more enhanced if Chinese art or calligraphy were hung on the walls, softly illuminated by the sunlight that seemed to weave its way around and through the windows. Well, what I then imagined has now become real with this exhibition of C.N. Liew's Chinese contemporary ink art at Clare Hall.
Almost certainly owing to the Taoist philosophy of 'the Way', Chinese intellectuals constantly seek a minimalist approach in aesthetics. While ink has been used to write and paint for thousands of years, it is the simple lines and dots of calligraphy that have been regarded as the most supreme form of Chinese art in the long history of its development. This has been both a blessing and a burden for Chinese contemporary ink artists. In the 1980s, the avant-garde identified with contemporary Chinese calligraphy (CCC) deliberately tried to subvert this grand tradition. Art critics such as Nanming Wang and Wu Hung argued that CCC had become the "radical opposition" to traditional Chinese calligraphy. Deconstruction was rampant, as some of the CCC artists created incomprehensible Chinese characters, or rearranged the lines and dots in familiar characters to disorient the viewer.
Liew wants to convey the beauty of structures and textures on natural rocks that are a central feature within Chinese garden or landscape art – a tradition admired by generations of Chinese dignitaries and intellectuals.
The artist of this exhibition, C.N. Liew, adopts a different approach in his contribution to contemporary ink art. Liew wants to convey the beauty of structures and textures on natural rocks that are a central feature within Chinese garden or landscape art – a tradition admired by generations of Chinese dignitaries and intellectuals. Liew argues that rocks have important connotations in Chinese culture, especially in relation to the legend of Nüwa, the goddess who repaired the broken sky by using rocks. He believes that the "rocks" he creates represent the reparation or reconciliation that we all need to face human conflicts and natural disasters. Liew still uses in his art predominantly traditional means – Xuan papers, ink and Chinese seals, while also deploying the traditional "shades of ink" to model the depths of the rock surface. However, as a contemporary ink artist, Liew does not wish to "write" or "paint" any fixed message, as is often found in traditional Chinese calligraphy or paintings. Instead, he invites his audience to extract from these images, with their enigmatic precision, messages relevant to themselves and to today's world.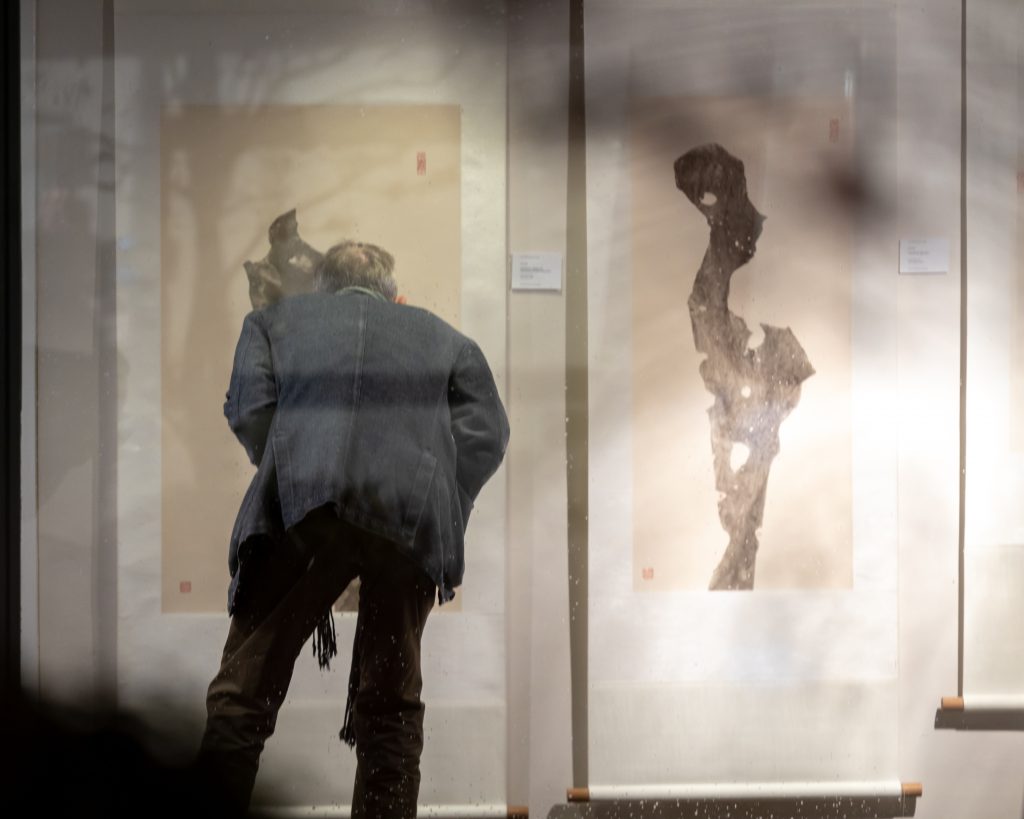 The title of this exhibition, Rocks from Yon Hills, is a traditional idiomatic Chinese phrase, reminding us that advice from others can play a formative role in one's success. In that spirit, we now bring the "rocks" to Clare Hall for your appreciation.'

Useful information
Accessibility details: full step-free access, accessible toilet, lift. For accessibility queries, please email our Porters.
For media enquiries, please email Katherine Selby, Communications and Marketing Manager. Any other queries can be directed to Fiona Blake, Secretary of Clare Hall Art Committee.
Discover more about art at Clare Hall via this page.
---
Non-College members can join our events mailing list to be the first to hear about upcoming concerts, exhibitions and lectures at Clare Hall:
---