Intimate Engagements concert: Jeremy Thurlow, Poppy Beddoe, Henry Chandler and Tim Lowe
Date: Saturday 4 March 2023
Location: Clare Hall, Herschel Road, Cambridge CB3 9AL
During their concert on 4 March 2023, Poppy Beddoe (clarinet), Henry Chandler (violin), Tim Lowe (cello) and Jeremy Thurlow (piano) played Jeremy Thurlow – After Seven Thunders and Olivier Messiaen – Quatuor pour la Fin du Temps.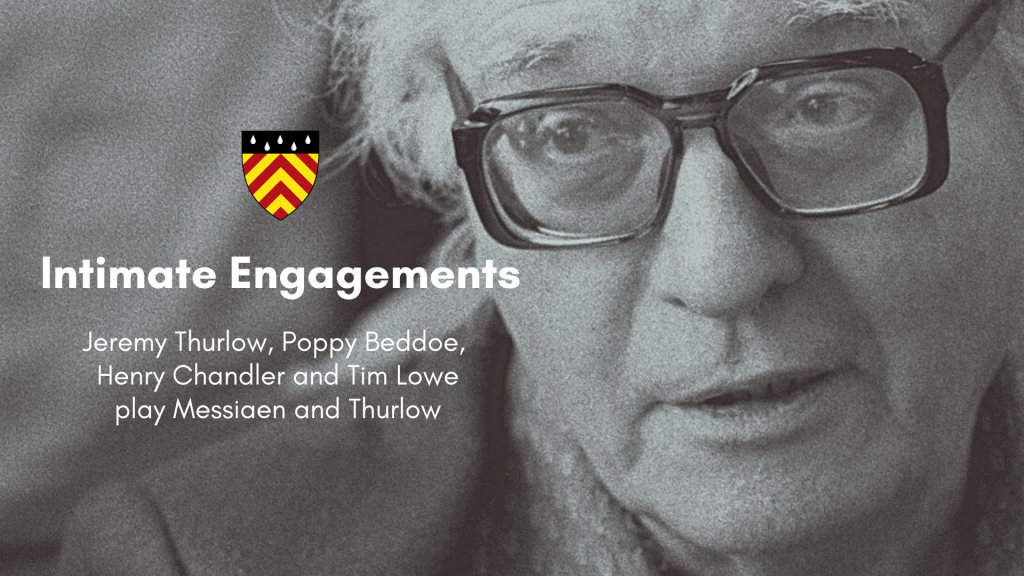 Ahead of the concert, the Music Committee shared:
Messiaen's Quartet for the End of Time is one of the defining chamber works of the 20th century. Composed and premiered in 1941 while Messiaen (pictured above) was a prisoner of war, and inspired by the Book of Revelation, the work consists of eight movements for piano, clarinet, violin and cello – an unusual combination dictated by the musicians he had available in the camp. The string and wind players for this concert are soloists with established careers and a solid knowledge of this music. Jeremy Thurlow is well known on the Cambridge music scene, both as a pianist and composer. He has taken up the challenge of writing a piece for the same combination, using similar biblical references. The work will be premiered in this concert.
Intimate Engagements is a chamber music series in which outstanding musicians accompany their performances with informal presentations, sharing with the audiences their musical journey of the programme performed. The series started in 2008 and has since then established itself as a uniquely enjoyable and stimulating contribution to musical life in Cambridge.
---
Non-College members can join our events mailing list to be the first to hear about upcoming concerts, exhibitions and lectures at Clare Hall:
---