King's Lynn Festival
Date: Tuesday 18 July 2023
Location: King's Lynn
The wonderful King's Lynn Festival https://www.kingslynnfestival.org.uk/ takes place between the 16th and 29th July 2023.
Our Emeritus Fellow, Robert Anderson, would like to arrange a visit to the Festival on Tuesday 18 July 2023. The highlights of this day include a lecture at 2.30pm in the 15th century Guildhall on 'English Art between Two World Wars' by Clare Hall Emeritus Fellow, Frances Spalding, based on her hugely successful book. In the adjacent Fermoy Gallery, for which there will be a private view with a glass of wine is an art exhibition, organised by Robert, called 'Blast to Blitz'. The evening's recital, again held in the beautiful 15th century Guildhall, of Bach cello sonatas given by Julian Lloyd Webber's wife, with a commentary by Julian himself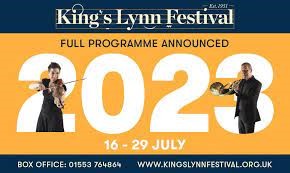 It sounds like a marvelous day and King's Lynn is historically a fascinating town and ancient Hanseatic port.
---
Non-College members can join our events mailing list to be the first to hear about upcoming concerts, exhibitions and lectures at Clare Hall:
---