A concert by Mélanie Clapies and Patrick Hemmerlé
Date: Saturday 10 June 2023, 7.30pm
Location: Clare Hall, Herschel Road, Cambridge CB3 9AL
Join Clare Hall for a summer evening concert by Mélanie Clapiès (violin) and Patrick Hemmerlé (piano, Musician in Residence at Clare Hall).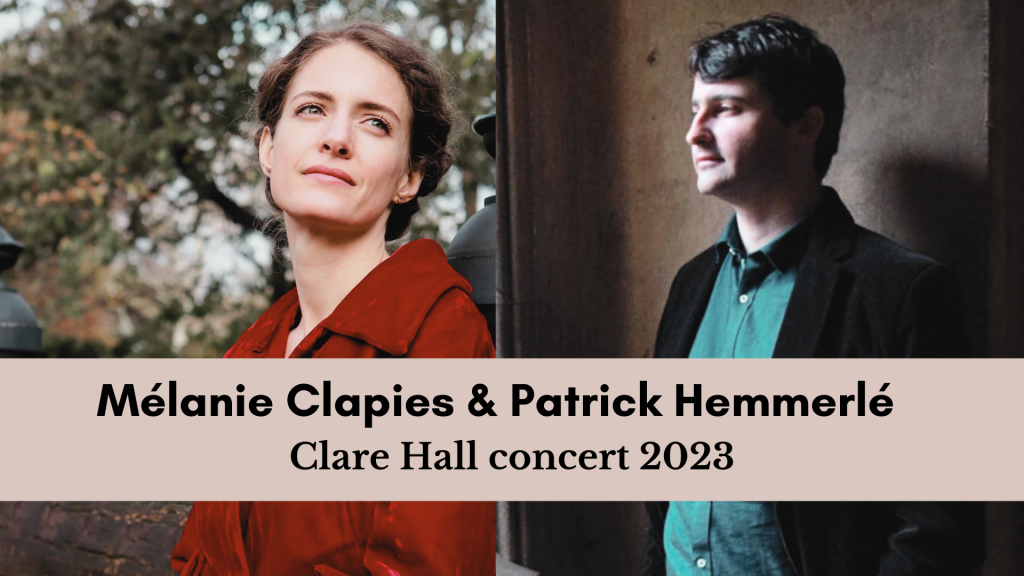 Programme
Schumann: 1st Sonata opus 105
Fauré: 1st Violin Sonata opus 13
Enescu: 3rd Violin Sonata opus 25
Tickets
£20 General Admission, £15 Clare Hall members, £5 students and children – please purchase via Eventbrite:
About the musicians
Mélanie Clapiès
Born in Paris, Mélanie Clapiès is a violinist who has cultivated a unique solo and chamber music career worldwide. A versatile and fluid artist, her collaborators have included Anthony Marwood, Roger Tapping, and John Myerscough, Pavel Vernikov, Vladimir Mendelssohn, Victor Julien-Laferrière, Adam Laloum, Guillaume Vincent, and conductors Carolyn Kuan and Louis Lohraseb. She performs regularly in venues such as Le Poisson Rouge, Carnegie Hall, and National Sawdust, and has participated in festivals in the United States including Yellow Barn, in France at Colmar, Musique en roue libre in Arras, the Festival de Pâques and the Août Musical in Deauville, la Roque d'Anthéron a part of the Trio Siddhartha, in Italy at the Salon Romantique of the Palazzetto Bru Zane in Venice, "Suona Francese" in Naples, Portogruaro, in Spain at the festival Fondation Monteleon in Leon, and in Algeria, Malta, and Russia.
In 2012, Mélanie founded the annual chamber music festival 'En attendant…' in Burgundy, France, with cellist Yan Levionnois. Together, they recorded an album of duos for violin and cello (Pierrots Lunaires, Fondamenta/Sony, 2014) as a part of her ongoing interest in exploring and uplifting unusual repertoire. Named a Zonta Club laureate in 2001, she has also received the Broadus Erle Prize (2013), the Yale School of Music Alumni Association Prize (2014), and the Philip Francis Nelson Prize from Yale University (2015). At Yale, she was the winner of the Woolsey Concerto Competition in 2015 with Alban Berg's Violin Concerto.
Mélanie studied at the Conservatoires Nationaux Supérieurs de Musique in both Lyon and Paris. A passionate educator, she has been on faculty at the Conservatories in Toulon and Bordeaux as well as the Ecole Normale de Musique in Paris. In 2014 and 2015, having moved to the United States, she received her M.M. and A.D. from the Yale School of Music, where she studied with Syoko Aki. She completed a Doctoral degree at the Manhattan School of Music in the studio of Mark Steinberg.
Patrick Hemmerlé
Acclaimed for the originality of his concert programmes and the depth of his interpretations, Patrick Hemmerlé is a French pianist living in England. He is Clare Hall's Musician-in-Residence and is Artistic Director of the Intimate Engagements concert series. Patrick's vast repertoire encompasses a large body of works, including the 24 Chopin Etudes and the 48 Bach Prelude and Fugues, which he often plays in concert. He is also a strong advocate of the music by lesser-known composers, whom he often introduces to the public, either in concert, in CDs, or on his YouTube channel.
Recent engagements have taken Patrick to New York, Berlin, Paris, Vienna, and Prague, and China, as well as many festivals and music societies in England. He has published 5 CDs, which have been well received by the international press. His latest recording project, to be issued in 2023, is a pairing of Bach's Well Tempered Clavier and Fischer's Ariadne Musica. His musicological knowledge and his capacity to clarify complex musical concepts means he is in demand as a lecturer. He has given talks for Cambridge University. Since 2021, he has been Artistic Director of Clare Hall's Intimate Engagements series.
Patrick is laureate of international competitions of Valencia, Toledo, Epinal, Grosseto, and CFRPM in Paris. He was trained in Paris at the Conservatoire (CNR), under the tuition of Billy Eidi. He has also had lessons with Graham Scott, Ventsislav Yankoff, Eric Heidsieck and Joaquin Soriano.
Useful information
---
Non-College members can join our events mailing list to be the first to hear about upcoming concerts, exhibitions and lectures at Clare Hall:
---