The Clare Hall Tanner Lecture on Human Values 2023: Paul Krugman and Meg Jacobs
Date: Tuesday 14 March 2023, 5pm
Location: Via Zoom and at Robinson College Auditorium, Grange Road, Cambridge CB3 9AN
The 2023 Tanner Lecture at Clare Hall will be given by the Nobel Laureate Paul Krugman, Professor Emeritus at Princeton University, together with Professor Meg Jacobs, Senior Research Scholar at the Princeton School of Public and International Affairs. They will explore current and historic inflation.
This event is taking place both in-person and via Zoom. Please note that in-person tickets are by private invitation only.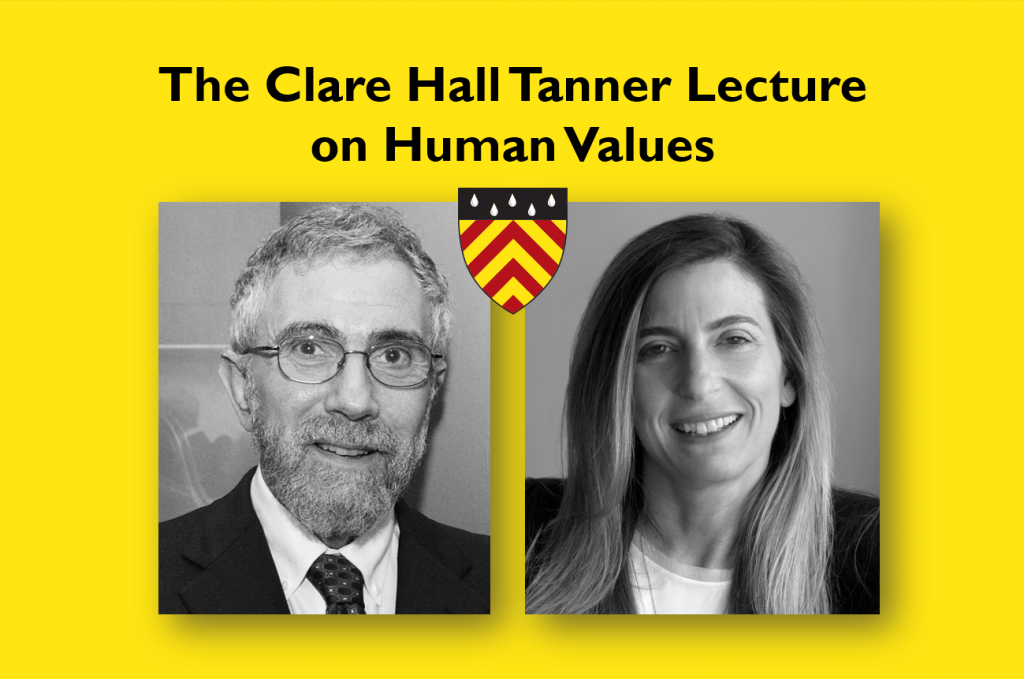 Schedule
17:00 – 17:05 Introductory remarks by Professor Alan Short, President of Clare Hall
17:05 – 17:50 Professor Meg Jacobs
17:50 – 18:00 Break
18:00 – 18:55 Professor Paul Krugman
18:55 – 19:30 Q&A (in-person contributions only)
Ahead of the Lecture, Paul Krugman shares:
'What have we learned about inflation? The sudden resurgence of inflation after 35 years of quiescence has called a lot of what we thought we knew into question. Optimists, myself included, were proved wrong by the surge — but pessimists making analogies with the 1970s have been equally wrongfooted by the rapid decline in 2022. And we've learned a lot more than we wanted to about the limitations of data. Nonlinear pricing seems like the best story at this point, but anyone making confident predictions hasn't been paying attention.'
Meg Jacobs adds:
'Today, with inflation at near historic postwar highs, policymakers have turned to monetary policy as the preferred solution. But it has not always been that way. In this lecture I will look back over the last century and a half to uncover a long history of alternative interventions.'
About our speakers
As one of the world's best-known and most acclaimed economists, Professor Paul Krugman speaks on the leading issues of the day affecting the world economy. An insightful, outspoken Op-Ed columnist for the New York Times, he is a passionate and articulate speaker, with a gift for relating global economic events to his audiences, and is committed to speaking the truth as he sees it in the most compelling terms. His twice-weekly Op-Ed pieces for the New York Times model the depth of insight and the unflinchingly outspoken style he brings to his speeches. Professor Krugman won the 2008 Nobel Memorial Prize in Economic Sciences for his ground-breaking work on international trade and economic geography. He is the author or editor of 20 books and more than 200 papers in professional journals and edited volumes. Professor Krugman is one of the founders of the 'new trade theory' – a major rethinking of the theory of international trade – for which he received the John Bates Clark medal in 1991 from the American Economic Association, a prize given every two years to 'that economist under forty who is adjudged to have made a significant contribution to economic knowledge'. He is also the leading pioneer in economic geography — the economic dynamics that determine how and why certain places (like Silicon Valley) end up specialising economically and the advantages this kind of clustering brings to companies and economies. The overarching theme to his work: bringing the theory of increasing returns into the economic mainstream.
Professor Meg Jacobs is a Research Scholar in the Princeton School of Public and International Affairs, teaching courses in public policy and history. She received her PhD in 1998 from the University of Virginia and was an Associate Professor of History at the Massachusetts Institute of Technology. Professor Jacobs has been a Fellow at the Harvard Business School, the Charles Warren Center, and the Radcliffe Institute for Advanced Studies. Her book, Panic at the Pump: The Energy Crisis and The Transformation of American Politics in the 1970s, looks at why American politicians failed to devise a long-term energy policy. She is the author of Pocketbook Politics: Economic Citizenship in Twentieth-Century America, which was published with Princeton University Press and won the Organization of American Historians' 2006 prize for the best book on modern politics. She writes for many publications including the New York Times, the Washington Post, the Guardian, American Prospect, Foreign Affairs, and CNN, and is currently writing a book about the New Deal and World War Two.
---
Useful information
For any queries, including regarding in-person spaces, please email Tam Marshall-Watts, College Registrar, via college.registrar@clarehall.cam.ac.uk
Please note that a photographer will be taking photos during this event, and these images will be shared via Clare Hall's digital and print communications.
---
Non-College members can join our events mailing list to be the first to hear about upcoming concerts, exhibitions and lectures at Clare Hall:
---