Festival of Wellbeing – a mindful wander around Clare Hall
Date: Monday 4 July – Tuesday 5 July 2022, 12pm
Location: Clare Hall, Herschel Road, Cambridge CB3 9AL (meet at the Porters' Lodge)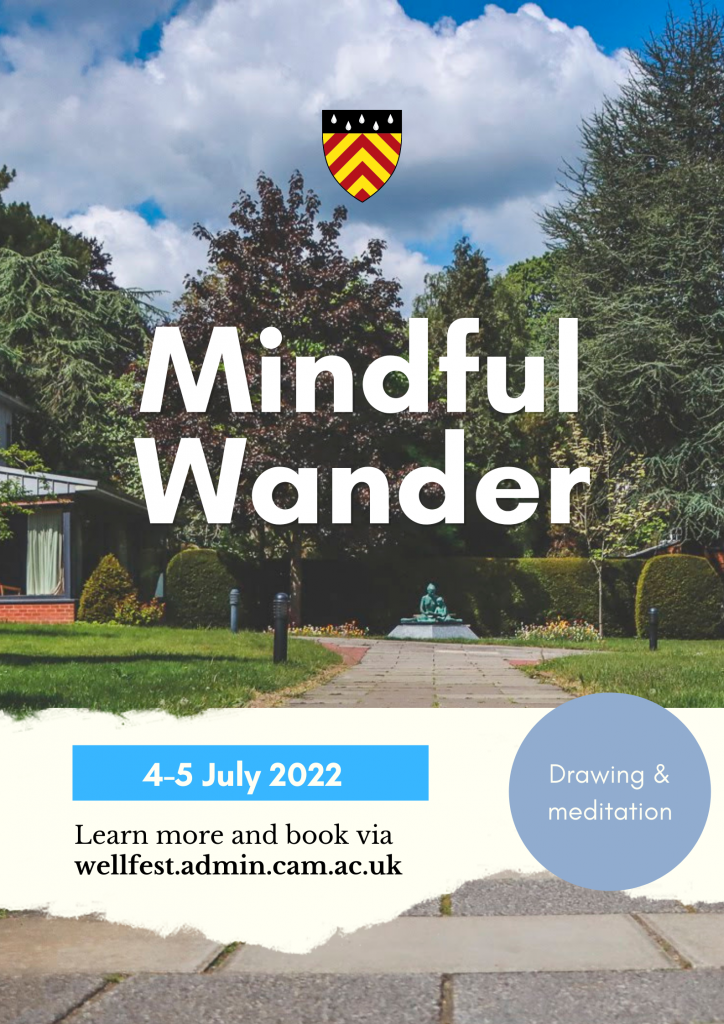 Join Clare Hall in a guided (or self-guided) mindful wander and outdoor meditation, enjoying the College's beautiful grounds and gardens.
Mindfulness is about purposely paying attention in the present moment; noticing our surroundings and what we are doing, rather than being caught in thinking about the past or future.
You're warmly invited to take in the sights, sounds and fragrances of Clare Hall's green spaces this summertime. The guided session will begin with mindful sculpture sketching (no art skills required whatsoever, as we'll be drawing without looking at the paper). We'll then explore the trees along Herschel Road, before heading over to West Court for a short guided meditation, after which participants will be free to roam our gardens.
---
Time slots (there are 4 sessions in total):
Monday 4 July from 12pm-1pm or 2pm-3pm
Tuesday 5 July from 12pm-1pm or 2pm-3pm
Booking will be via the Festival of Wellbeing website once the full programme launches: https://www.wellfest.admin.cam.ac.uk/
---
Detail on activities:
Mindful sculpture sketching: we will provide paper and pens for a short mindful sketching exercise, in which participants are invited not to look at the paper and to simply look very closely at a sculpture and sketch what they most notice. You may be surprised by your creation!
Tree-looking: walking along Herschel Road we will pause and look carefully at the large, leafy trees, listening to any sounds and wildlife we may notice.
Guided meditation: once at West Court we will sit on the grass and a Clare Hall staff member will invite attendees to follow a short guided body scan meditation, focusing on the face, shoulders, hands and feet as applicable.
Free to roam: once we have completed the above activities, you are very welcome to wander our gardens and grounds freely, leaving at a time to best suit your schedule.
---
Practical matters:
Drawing materials will be provided, but if you have particular pencils or pens you're fond of, please feel free to bring them along.
The drawing element is optional and you're very welcome to skip it and simply enjoy looking around the courtyard at that point if preferable.
Please wear comfortable clothes and footwear, and bring a bottle of water or other refreshment with you.
Our maximum group size is 10 and we are running 4 sessions in total (allowing up to 50 minutes for the main guided aspects, though you can of course leave early if your schedule doesn't fit the whole session).
If it rains on the day, the group will go to the Richard Eden Suite in West Court for some indoor drawing, nature reflection and a guided meditation session.
---
Self-guided option:
You can also download or pick up a document from our Porters' Lodge to enjoy a self-guided wander if you'd prefer to practice mindfulness solo or with your friends. This will be available from the beginning of July.
---
Clare Hall is a college for advanced study at the University of Cambridge, located close to the University Library and neighbouring Robinson College.
For any queries ahead of or after this session, including regarding accessibility, please email Katrine Mackay via HR@clarehall.cam.ac.uk
Those who sign-up will receive a confirmation email with details of where to meet and a reminder of what to bring on the day.
---
Non-College members can join our events mailing list to be the first to hear about upcoming concerts, exhibitions and lectures at Clare Hall:
---