Guest rooms at Clare Hall
Book to stay in Clare Hall's modern accommodation, set within the College's tranquil grounds and gardens, just 10-minutes' walk from Cambridge city centre.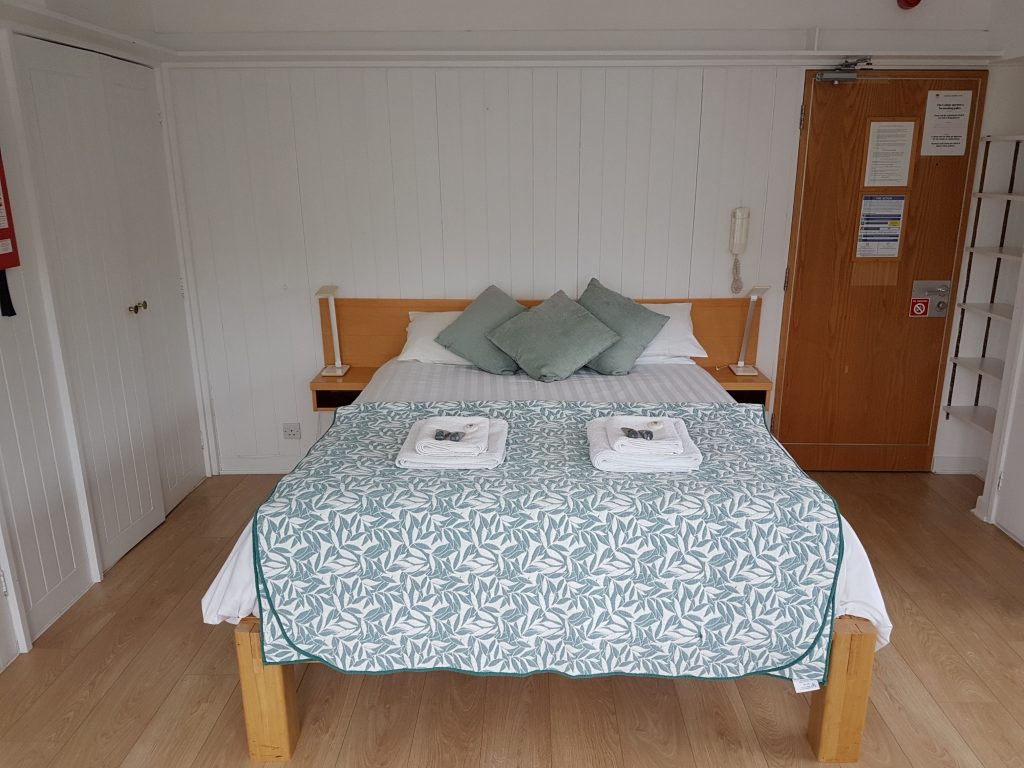 Free Wi-Fi is available in all rooms. Guests are issued with a ticket at the Porters' Lodge on arrival.
There is a laundry on-site for guests to use.
Cooking facilities are available in some rooms and flats, and Clare Hall dining cards are available for purchase from the Porters' Lodge.
Tea- and coffee-making facilities are available in every room, and there is a drinks vending machine in the common room.
Cambridge has plenty of pubs, restaurants and bars. The Sidgwick Site on Sidgwick Avenue is part of the University complex and has cafes and a buttery/coffee bar which is open during term-time to members of the public, and is just a five-minute walk from Clare Hall.
Our Fellows' Garden is open for guests to relax in year-round. Picnics may also be enjoyed in the West Court gardens.
View a site map of the College here.
Find pricing information for all guest rooms via this document (for 2023-24), and please consult our Terms and Conditions for guest room stays at Clare Hall.
---
Check-in is at the Porters' Lodge from 2pm to 11pm; check-out is by 10am.
---
Our selection of guest rooms
Main Site
We have three guest rooms on the main College site, which benefit from being close to the Porters' Lodge and the Fellows' and Scholars' gardens.
The Bollinger guest room suite has two bedrooms, a double and twin room, both with ensuite facilities. They have shared access to kitchenette facilities and a dining space. These rooms can be reserved separately or as the whole suite.
The King Room is a double guest room with ensuite and tea/coffee facilities, an outdoor patio area, and is located close to our King Suite meeting room, which is available for conference bookings.
---
5b Herschel Road
A short walk from the main College buildings, this large former family property offers off-road parking for guests, and a spacious rear garden with shared access.
---
Gillian Beer House
Located at West Court and a short walk from the main college buildings, Gillian Beer House has a double guest room and two single guest rooms, while also housing a number of residential apartments.
All of the guest rooms benefit from kitchenette facilities and ensuite bath or shower rooms, and have access to the West Court gardens.
Gillian Beer House also houses the Richard Eden Suite, which is available to hire for conferencing and events.
---
Paul Mellon Building
Our Paul Mellon family guest room can sleep up to four people, with a double bed and two single beds. The room benefits from a fully-equipped kitchen with separate dining space and a private bathroom.
Accommodation Enquiry Form
To make a guest room accommodation enquiry, please complete this form. Any requests that are submitted Monday – Friday (9am – 5pm GMT) will be contacted by our Accommodation team within 24 working hours, with an update on the availability of our guestrooms for the dates you have requested. Please note that until you have received a final confirmation from the Accommodation team that a booking has been made for you, rooms are not reserved.
Return to the main accommodation page.