Clare Hall Allotment Initiative: first summer harvest enjoyed
Back in March, members of Clare Hall's Allotment Initiative gathered to sow a variety of vegetables in West Court. Fast-forward to July and the team behind the project have harvested a sizeable crop, making a range of nutritious dishes for an inaugural summer allotment meal.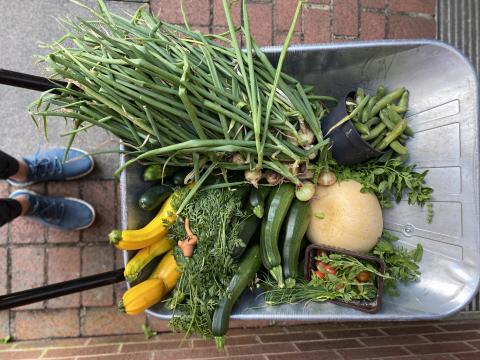 Sarah Gough, a PhD candidate from the Cancer Research UK Cambridge Institute and co-founder of the project, shares:
'Last night we enjoyed the first of many allotment meals showcasing our first summer harvest. We made dishes from carrot top pesto, courgetti, potato salad, broad bean dip, to pizza topped with our tomatoes and herbs. It has been so rewarding seeing the life cycle of each plant from seed to our plate!'
Watch a mini film presenting the allotment meal dishes via our Facebook page.
All College members are warmly invited to get involved in this project, with beginners most welcome. Please contact Sarah via sag66@cam.ac.uk for details.