'Nothing can make your day more positive than a bit of rock and roll or Motown'
Meet Amelia Shaw, an MPhil in Modern British History who is researching 1960s popular music while setting up a baking business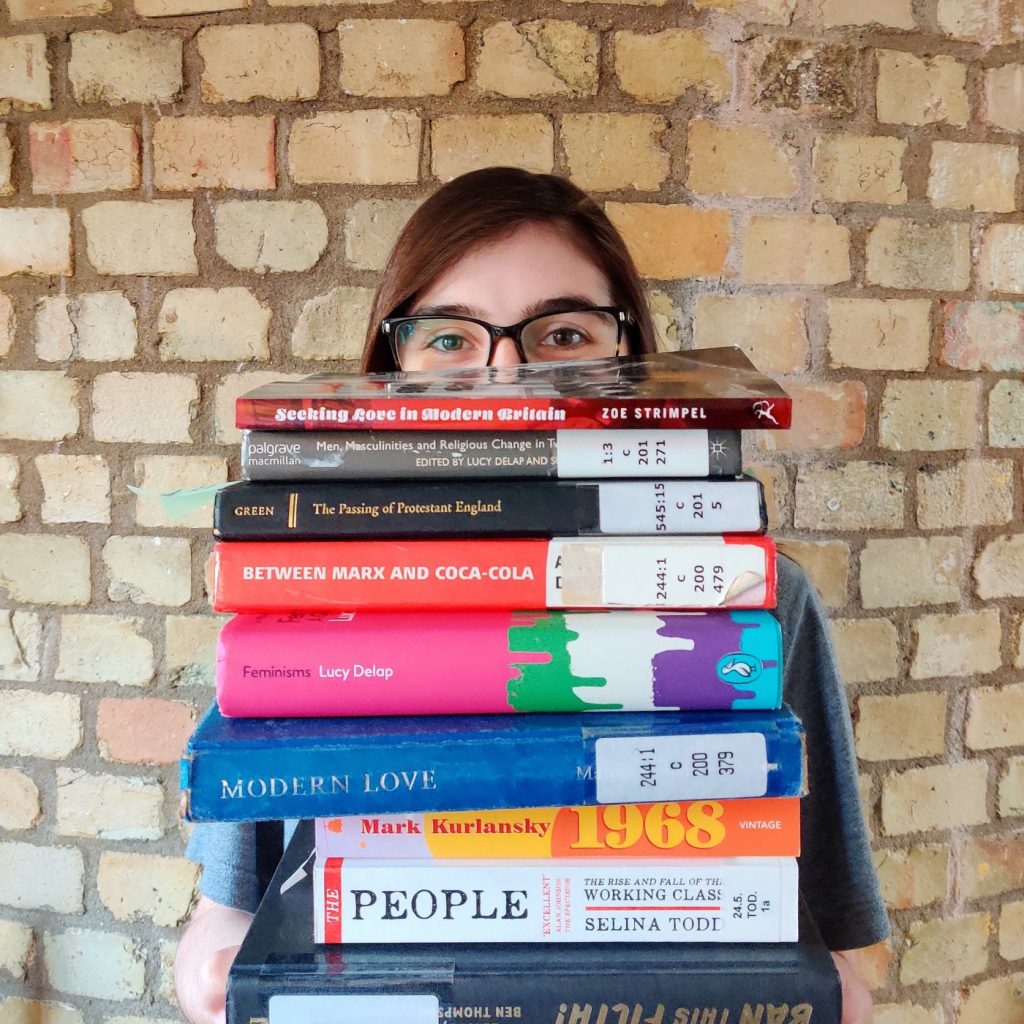 I'm from just outside of Manchester originally — a little village by the Pennines.
I completed my undergraduate degree at the University of Sheffield, and spent a year of that at Humboldt University of Berlin. I studied History, and I really developed an interest in twentieth-century British history, and also in public history. I had the chance to work on a number of public history projects that I really enjoyed, for example a hands-on History project with local school pupils and the Museum of Sheffield, and creating workshops for local people with dementia.
combining my passions for history and music at Cambridge has been incredible
My dissertation research is on 1960s popular music.
I'm looking particularly at how teenagers in the north of England, outside of the cultural centre of London, experienced it. My undergraduate research focused on how accessible music was, both economically and geographically. For my MPhil I am looking particularly at gender and how women engaged with popular music. I'm hoping to explore the likes of the role of the church in people's musical experiences; amateur music making; and how music could be fundamental to relationships. I've always loved music, and I have quite a musical background, so combining my passions for history and music at Cambridge has been incredible.
I grew up listening to artists such as The Beatles, and my Nanna loves early rock and roll — Elvis in particular.
I've really grown to love it, too: nothing can make your day more positive than a bit of rock and roll or Motown! Many historians dismiss music as a topic of serious study, and there hasn't been a lot of research on it within the discipline, so I'm really excited to see where my research leads me.
Over the next few weeks I will be conducting six oral history interviews with people who were teenagers in the 1960s and had an interest in popular music.
The interviews will unfortunately be either via Zoom or the phone, which certainly adds a challenge. It can be more difficult to have engaging conversations over Zoom, especially about more personal matters. I've also struggled to source interviewees due to Covid. Everyone understandably has so much going on in their lives at the moment, which has meant some interviewees have decided not to participate. The electronic aspect has also been a challenge, as some interviewees were unable to speak to me via a method other than face-to-face. I therefore have fewer interviewees than I initially thought I would, however I am really grateful to still be able to carry out my research, as several of my peers need to change their research topics.
I grew up in a house where food was a force that brought everyone together
I've recently started my own business, which is called the Cambridge Baking Company.
I sell home-baking kits that come in glass milk bottles — all you need to do is add butter and an egg or eggs, and you'll have a tasty homemade bake in under an hour. The glass bottles are reusable and recyclable, and the ingredients are made up of local, organic, and Fairtrade ingredients. I'm striving to make the company as sustainable as possible.
I've baked for a long time — my mum taught me growing up — and over the past few years I've noticed a rise in companies selling baked goods.
They're great, but for me, part of the fun is the actual baking, and I really want to share that. People are definitely starting to bake more, but a lot of ingredients go wasted if you don't bake a lot. These kits minimise waste, and they make baking a lot faster. There's also a lot less washing up, which is always a perk! The bottles will last in the cupboard for months, too, so you can use them whenever you like. I grew up in a house where food was a force that brought everyone together, and I love to bake for other people, because it always brings a smile.
Even though the academic year has been a little different, something I have enjoyed is how inclusive Clare Hall is.
I live offsite in private accommodation, but I still feel like part of the College, which is really nice. The Christmas market event before Christmas was a real success, and having the chance to meet people in person was great! Meeting people has been tough, so the virtual events have been great fun, too. From virtual workouts to coffee chats and 'Meet the Fellow' evenings, having the chance to chat to people is something I think we have all appreciated more than ever.