'I examine how Black college students make meaning of the stories shared within their college personal statements to predominately white institutions'
Meet Aya M. Waller-Bey, an MPhil in Education graduate who was a recipient of the Gates Cambridge Scholarship. We catch up with Aya as she completes her PhD in Sociology, focusing on race and college admissions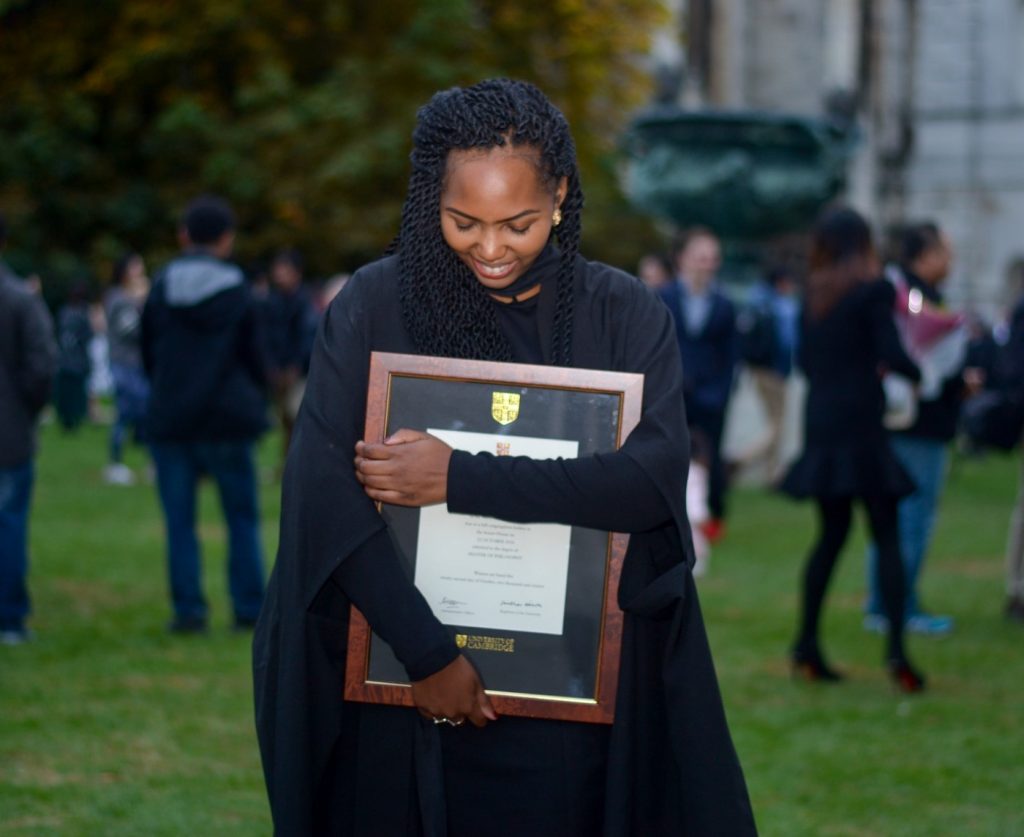 I am a proud first-generation college student born and raised in Detroit, Michigan.
I graduated from Georgetown University in 2014 with a Bachelor's degree in Sociology with a Social Justice Concentration and a minor in African American Studies. In 2016, I completed my MPhil in Education at the University of Cambridge as a recipient of the Gates Cambridge Scholarship. My master's thesis examined the possibilities and barriers of non-Black educators to implement Hip Hop Based Education and Hip Hop Pedagogy in multi-ethnic classrooms. Now, as a third-year doctoral student at the University of Michigan, my work examines how current, Black college students make meaning of the stories shared within their college personal statements to predominately white institutions. My research aims to reframe the discussion on the college admissions process through an examination of the role that social actors and universities play in reproducing racial stereotypes among Black students during critical political and academic debates about diversity in higher education. Outside of the classroom, I publish reflections on my Medium blog. I volunteer on the board of the Georgetown University Alumni Club of Detroit and facilitate and participate in a host of conversations about racial equity and socioeconomic diversity in higher education. Past discussions include the 2016 White House Summit on Advancing Postsecondary Diversity and Inclusion and as a panelist discussing the experiences of historically disadvantaged students attending elite institutions at SXSW Education in Austin, Texas.
I joined the Clare Hall community in September 2015 and lived in the Michael Stoker Building.
While there, I regularly attended formals, participated in GSB events, and worked as a bartender at the Anthony Low Bar (ALB). I also ran for and was elected President of the GSB in 2016 but could not fulfill my tenure as I decided to return to the United States after completing my thesis. While at Cambridge, I was featured in the Cambridge Alumni Magazine and profiled on the Gates Cambridge website about my Hip Hop Based Education research. Additionally, I performed at Arts Kaleidoscope, a series of arts-based research performance events connecting researchers engaged in diverse arts-based practices in educational research, at the Faculty of Education in Cambridge. I also performed "Feminism in Hip Hop" within the International Women's Day Celebration at Homerton College. King's College also invited me to speak on a panel with Cambridge faculty about diversity and decolonisation. Finally, I published an op-ed in Huffington Post UK, 'Survivor's Guilt', which discussed my experiences navigating Cambridge as a first-generation college student and the privileges and disadvantages my social identities and social locations afforded me.
I developed such strong relationships with my fellow graduate students living in the Michael Stoker Building, and the Clare Hall community-at-large.
Being a Gates Scholar made my Cambridge community more robust. Beyond its reputation as a prestigious scholarship, I appreciated the Gates Scholar community because it broadened my network and connected me to diverse leaders across colleges. Clare Hall felt like one big family, and Gates strengthened my professionalisation. The Gates Scholar community also provided experiential learning opportunities through excursions to Windsor, Bath, and Brighton. I also participated in a Rhodes and Gates Cambridge exchange, spending a night at Oxford University and hosting Rhodes Scholars during their time at Cambridge.
I aim to serve as the Chief Academic Officer, or Provost, at a four-year institution
I learned a great deal during my time at Cambridge.
I learned the power of storytelling and the ways our stories can make an impact. Specifically, while collecting data for my MPhil thesis on Hip Hop Based Education, I integrated the Postgraduate Certificate in Education trainees' experiences and perspectives at a leading British university. My participants revealed the important pedagogical opportunities of Hip Hop in education. I also learned the importance of a global network during my time across the pond. While at Cambridge, I connected with people from all over the world who challenged my perspectives and pushed me to decolonise my worldview. I was forced to de-center my American-ness, which allowed me to consider all the ways that I maintained privilege. Finally, I took my first solo trip while at Cambridge. In May 2016, I traveled to Iceland, and that experience revealed to me how courageous and resourceful I truly was.
Covid-19, as well as the political climate in the United States, posed a few challenges to my research and work.
For one, interviews with participants were conducted virtually via Zoom. I could not travel to my sites to recruit participants and conduct ethnographic observations. Also, given my sites' location, the Mid-Atlantic region — which includes Washington DC, Maryland, and Virginia — my participants attended universities with strong ties and geographical proximity to the United States Capitol and the White House. Consequently, it was difficult to connect with students during an insurrection and administration change.
After I earn my PhD in Sociology, I want to teach undergraduate and graduate students at an institution of higher education.
I plan to publish empirical articles and books on my research agenda and mentor other historically marginalised students. Ultimately I aim to earn tenure, before serving as the Chief Academic Officer, or Provost, at a four-year institution.
And finally, one thing few people know about me…
When flying on airplanes, I prefer the middle seat! It almost always means that I'm able to snag a seat in the front of the plane, and I feel safer having someone on opposite sides of me.
Learn more about Gates Cambridge Scholarships at https://www.gatescambridge.org/