'Our Clare Hall memories are vivid and rich'
Doug Kelbaugh is a Life Member of Clare Hall and Professor and Dean Emeritus of the Taubman College of Architecture and Urban Planning at the University of Michigan. In this story, Professor Kelbaugh discusses his latest book — which centres around environmental resilience in cities — and reveals his hopes for the future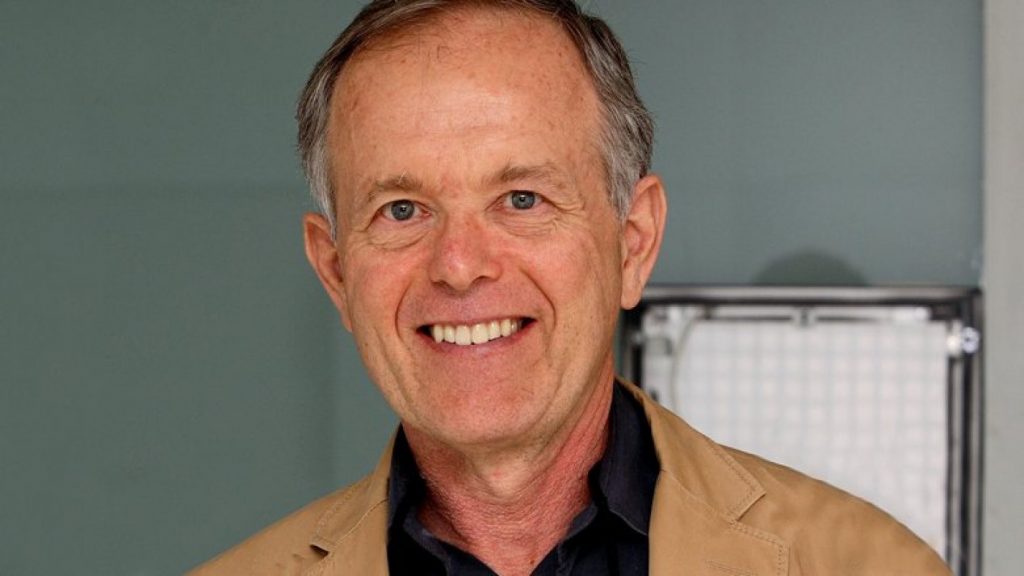 I'm doing my best to stay up-to-date and involved in the areas I'm interested in.
These include architecture, urban design and planning, sustainability and climate change. I've written several books, the latest of which is The Urban Fix: Resilient Cities in the War against Climate Change, Heat Islands and Overpopulation, much of which I researched and wrote while a Visiting Fellow at Clare Hall. My wife and I enjoyed a wonderful half year there in 2017, and as a Life Member I hope to visit this coming summer.
Cities are one of the most significant contributors to global climate change.
The rapid speed at which urban centres use large amounts of resources adds to the global crisis and can lead to extreme local heat. My book addresses how urban design, planning and policies can counter the threats of climate change, urban heat islands and overpopulation, helping cities take full advantage of their inherent advantages and new technologies to catalyse social, cultural and physical solutions to combat the epic, unprecedented challenges humanity faces.
Our Clare Hall memories are vivid and rich —
walking to town; the many dinners; little concerts; walks through the colleges; shopping; bicycling the neighboring hills and towns; and going to London. The walks to and from Grantchester were marvelous. Alas, I had a bike accident on a steep hill near the polo grounds south of town that landed me in Addenbrookes for a week. It was actually a delight, talking late into the night with my three roommates…!
I've been blessed with a wonderful career as a professional and academician, able to bridge the world of practice and ideas.
Highlights have included working my way around the world in 1965–66, taking freighters to Japan and Australia, where I worked as a sheep hand and door-to-door encyclopedia salesman. Coming to Europe for the first time from the East was a thrill, one that continues to this day, with about a dozen subsequent visits. We've lived briefly in Copenhagen, Rome, Paris and of course, Cambridge. I am continually thrilled by European — especially Italian — cities, architecture, cuisine and people. I've visited some 125 countries of the 185 on earth.
I've written articles, book chapters and several books on the built environment, with an increasing emphasis on environmental resilience, as I consider climate change the greatest challenge facing humanity.
It threatens so much of our civilization and accomplishments. And it's accelerating. Although we can't reverse or even stop climate change, we can slow it down for the benefit of our kids and grandkids. I feel sorry for the next generations, who will not be able to enjoy the same planet and lifestyle we've so enjoyed. Indeed our generation hit the sweet spot — no world wars, depressions, global natural disasters and, until Covid, no pandemics. Although the US's politics no doubt look crazy from elsewhere, I'm happy we have a new federal administration, after four frankly embarrassing years.
It's been a difficult year, with many lessons to be learned.
Lockdowns have been tough, especially in terms of one's relationships with family and friends. The economic slowdown has spared our family, but it's sad to see how hard it has hit others, both here and abroad. I'm relieved my wife and I have been able to get our two vaccinations, which we hope will allow us to start travelling again this summer. We moved back to Seattle, Washington from Ann Arbor, Michigan fourteen months ago. It's been both difficult and rewarding to pack and unpack our life's belongings, triggering so many recollections. We like being here, near our grandkids and old friends, as well as warmer winters and cooler summers. It's a stunningly beautiful city, with views east and west to mountains. I'm able to bike about twenty miles every other day, which keeps me alive, happy and in shape. At age 76, I feel lucky to be able to pedal the local hills.
What's next?
Staying healthy, happy and involved in the community. Another trip to Europe, visiting Ann Arbor, occasional speaking gigs and webinars, a little pro bono teaching at the University of Washington, and more time with friends and family as the virus abates. I've written a 100-page memoir, not for publication but for my children and theirs. It was a good experience to recall life, something I recommend to all of you.
Learn more about Professor Kelbaugh's book via Routledge's website: https://www.routledge.com/The-Urban-Fix-Resilient-Cities-in-the-War-Against-Climate-Change-Heat/Kelbaugh/p/book/9780367175702