'Emerging studies show that the pandemic has pushed many women into more traditional roles, negatively impacting gender equity in the workplace'
Meet Rea Eldem and Francesca Root — two Life Members who are working together to build more equitable organisational cultures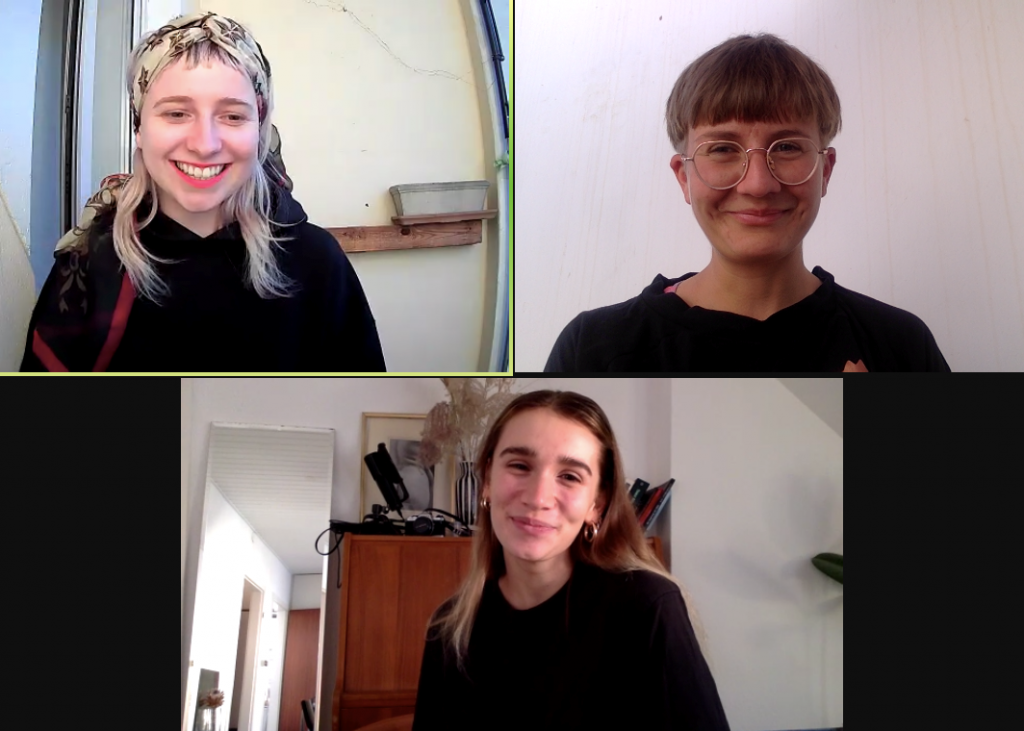 Founded by Rea Eldem, IN-VISIBLE BERLIN supports organisations in their transformation process towards a more equitable organisational culture.
'Part of this means recognising employees' needs and building upon the experiences of minority groups, fostering a working culture where everyone feels invited', says Rea, who during her MPhil at the University of Cambridge observed that there is often little or no transfer of knowledge from Gender Studies into business practice in Germany. Changing this by supporting organisations in examining their own corporate culture has since become IN-VISIBLE BERLIN's mission. Rea and fellow Clare Hall Life Member Francesca Root, along with their Berlin- and Hamburg-based teams, facilitate trainings and conceptualise tailor-made workshops to kick off transformation. 'The clients that approach IN-VISIBLE BERLIN are diverse,' explains Francesca, 'from tech-start-ups seeking to address more women, to corporates who want to call out sexism, to research faculties looking for a moderated safe space to discuss personal experience'.
organisations need to sure up structures and processes that protect employees of all levels from institutionalised forms of discrimination
For this blog to mark International Women's Day, Rea and Francesca share some of the top challenges they are tackling, and what they've learned so far:
Emerging studies show that the pandemic has pushed many women into more traditional roles, negatively impacting gender equity in the workplace.
Across Europe, sectors where the most individuals have been infected with covid have been gendered industries, such as care work. The World Health Organisation has found that in Spain, for example, the percentage of women who were infected by Covid within the health sector was over 70%. Moreover, unpaid labour of women has increased due to strict curfews — women have done 13 hours more unpaid labour per week than men in Europe in care work and households. This added workload poses a remarkable double-burden for women in the workplace.
The most important asset for a healthy workplace culture is a well-established and formalised feedback culture that empowers everyone to share whenever something's up.
This can help to tear down hierarchies and make it easier to raise criticisms, frustrations or positive feedback regularly. Establishing this is not easy — a lot of managers come to our trainings, claiming that 'their door is always open' when employees tell us in anonymous interviews that they would never go through that door for various reasons. On a very basic level, organisations need to sure up structures and processes that protect employees of all levels from institutionalised forms of discrimination. It sounds very obvious — but most organisations do not have a clearly communicated process in place that someone who has become a victim of discrimination, or observed something, can follow through with.
Although public discourse about diversity and inclusion is very prominent, we see a lot of lip service but very little tangible action.
As with topics such as environmental justice, the problems seem abstract. Often, leaders don't see the immediate touchpoints or know where to begin with making change. IN-VISIBLE and its employees therefore spend a lot of time on educational work, explaining the value of gender equity as well as its relevance. We do this gladly and without judgement, but this advocacy is challenging in that it requires a lot of emotional labour from us as we translate knowledge from science and activism to the space of the business world.
Looking to the future, European expansion is our goal.
At INVISIBLE-BERLIN we believe everyone can, and should, do better in regards to gender equity. We have been blessed to be able to continue our work throughout the pandemic. Building upon our experience with digital tools and platforms has made it easy to shift to the digital realm entirely, where we are proud to say that we can generate safe online spaces, lively collaboration and growth.
Rea Eldem is an entrepreneur and gender equity advisor. She practices Design Thinking as a mindset for transformation; she also holds several lecturer positions (e.g. at the Hasso-Plattner-Institute's School of Design Thinking or the Berlin School of Economics and Law). As the founder of IN-VISIBLE BERLIN, she mobilises strategies for companies that aim for more gender equity at the workplace. While at Clare Hall (2017–18) she completed a Gender Studies MPhil which has since equipped her with nuanced knowledge about intersectional feminist theory that is the basis of her work.
Francesca Root's background lies in Sociology with a focus on how emotions and public feeling about events and politics construct reality. Francesca studied the MPhil in Sociology of Media and Culture while at Clare Hall (2017–18). She was also co-officer for Equality on the Graduate Student Body. Francesca now lives and works in Berlin. As a freelance creative, Francesca offers consulting services at IN-VISIBLE BERLIN alongside writing and directing at her own independent film production collective, OVERLOOK Pictures.
Learn more about IN-VISIBLE BERLIN at https://en.in-visible.berlin