'Queer people are still struggling to have equal rights and, in many cases, simply to exist'
Javier Pérez-Osorio, a PhD Candidate at the Centre for Film and Screen Studies, shares details of his research into the representation of queerness in recent Latin American fiction films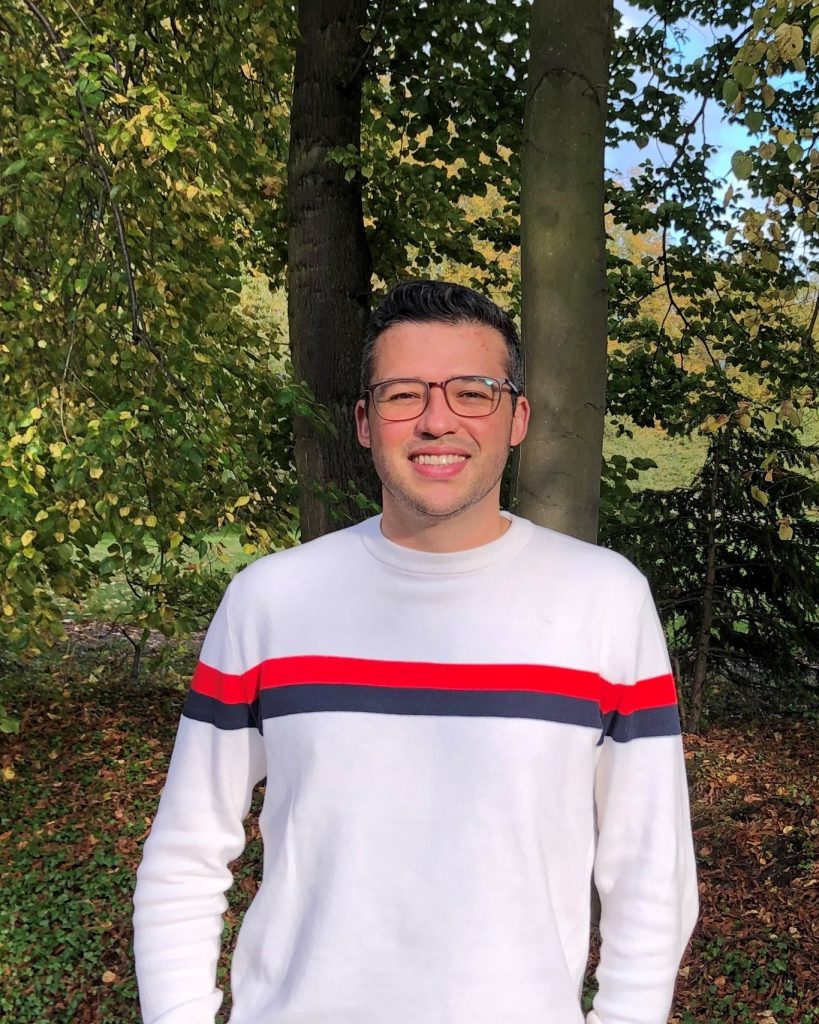 I was born and raised in Bogota, Colombia.
I have been a member of Clare Hall since last September, when I came to Cambridge to start my PhD.
My research analyses the representation of queerness in recent Latin American fiction films.
I am interested in studying progressive portrayals of queer experiences and understanding the way in which the global LGBTIQ+ expressions, in particular queer cinema, have been reinterpreted in Latin American contexts.
I have been keen on films since I was a teenager.
On-screen I have found not only a way to satisfy my curiosity about unknown, diverse worlds and people, but also a valuable way to understand myself. As a gay person, the representations I have come across through cinema have affected me, either in positive or negative ways, which in the end has had a role in coming to terms with who I am. For that reason, I am interested in approaching from a critical perspective the way in which we, queer people, are being presented to audiences across the world and more specifically in the context of where I come from.
Beyond this personal interest, on the one hand, I think that studying the depiction of queer characters, themes, and mediums from an academic point of view will help us to understand the varied ideas and beliefs that underpin the imaginaries about queer experiences and people. At the same time, I think this reflection could potentially transform the way in which spectators relate to queer people on-screen and, more importantly, in real life. Also, I hope that such a transformation will ultimately help the personal journey of so many queer people in need of finding positive references in their own process of becoming who they are. Finally, I am drawn to this topic because I would like to make visible some stories from Latin America about being queer that have not been broadly studied.
I hope that I never cease to be amazed by cinema and its impact in our lives
I am convinced that my research, although focused on cinema, has the potential to engage with contemporary cultural studies and with the LGBTIQ+ movements.
Beyond the effect in the personal life of spectators, the politics of representation have an impact on broader issues such as social visualisation, ethical inclusiveness, and political participation. I believe this is even more relevant in a Latin American context, where there is a tension between the increasing creation of policies that protect the rights of sexual minorities and a society which is still marked by a traditional mentality. Queer people are still struggling to have equal rights and, in many cases, simply to exist. It is not a secret that even in those countries where being queer is not illegal anymore, it is still deadly to express freely your diverse sexual and gender identities. The current situation for transgender people is particularly concerning. I am convinced that questioning the representations about queer people is one of the many steps we need to take so that we all, regardless of our differences, have the opportunity to live a good and happy life in this world.
I would like to pursue a career in academia.
I envision myself as an expert on the politics of representation of queerness, and queer theories in Latin America specifically. However, I also would like to engage with cultural institutions beyond academia that allow queer individuals and groups to gain social visualisation and political participation. And, finally, beyond my present and future academic projects, I hope that I never cease to be amazed by cinema and its impact in our lives.
It has been challenging to have the full experience of either the Centre for Film and Screen or the MMLL Faculty due to the dynamics caused by the pandemic.
However, virtual events have given me the opportunity to listen to fellow PhD candidates and academics whose work is stimulating and thought-provoking. In general, I have felt very welcome and supported by both the Centre and the Faculty, and despite the lack of interaction in person, I think the impact they have had on my work has been tremendously positive.
Learn more about the University's Centre for Film and Screen on their website, where you can find profiles of all current PhDs, including Javier: https://www.mmll.cam.ac.uk/javier-perez-osorio