'The Lady of Clare would surely be thrilled to see that this community has expanded, diversified, and achieved so much'
We're pleased to share these reflections by Claire Barnes, who edited the book For Her Good Estate: The Life of Elizabeth de Burgh, Lady of Clare, by Professor Frances Underhill (2020)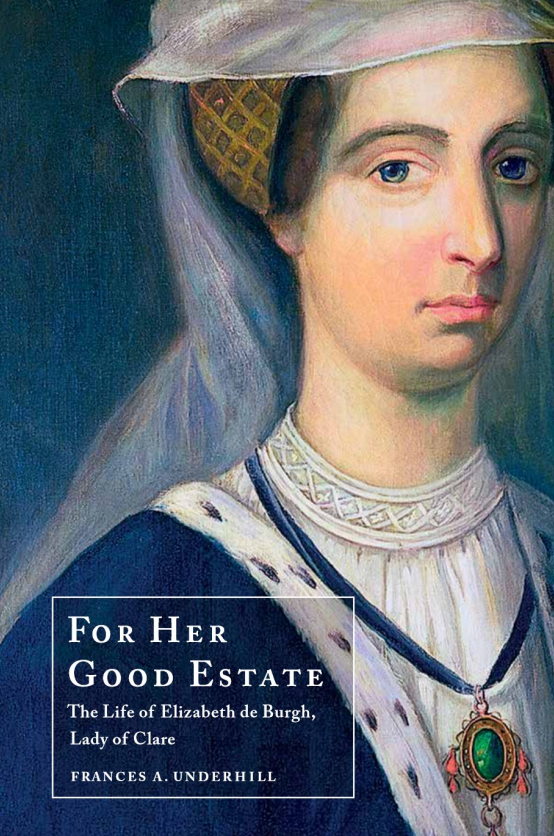 The precious pearl of learning
In 2026 we'll be celebrating the 60th anniversary of Clare Hall, and the 700th anniversary of Clare College. The decision by Clare College to use part of its endowment to establish Clare Hall is one of its most inspiring — and what a success it has been! 1326 is the year in which Clare College was founded, and regime change ended the disastrous reign of Edward II, eventually leading to peace and prosperity under Edward III. The dramatic events of that year — described in the new edition of For Her Good Estate — restored the fortunes of the Lady of Clare, enabling her to come to the rescue ten years later when the new college was struggling. In 1359, after years of experience, she set out the statutes which continue to guide Clare College today. She envisioned a community of Fellows and students, chosen on merit, acquiring 'the precious pearl of learning' and sharing it with the world, for the good of society.
An extraordinary life
The Lady of Clare would surely be thrilled to see that this community is not only about to embark on its eighth century, but that it has expanded, diversified, and achieved so much — and that there are now two colleges which are 'called by the name of Clare, and none other, for ever'. Her own voice survives in three documents, her visual identity in three small seals — but she also left us a treasure trove of administrative records. Piecing these together with official documents, her biographer Professor Frances Underhill painted a portrait of an extraordinary life — through arranged marriages, abduction, war, imprisonment and plague, to gracious living and a multi-generational network of remarkable friends. Her philanthropic projects included foundation of a Franciscan friary at Walsingham, circumventing an abusive monopoly to provide hospitality to poor pilgrims. Her close friends became patrons of other Cambridge colleges; they also shared interests in architecture, sumptuous textiles, and beautifully illuminated books and textiles, during a golden age of artistic and intellectual excellence.
A second edition supplements Professor Underhill's book with new essays on this network of patronage and influence, illustrations of the beautiful artworks, and in the hardback, specially commissioned endpapers of Clare Castle and Walsingham. It draws on new archaeological discoveries and research, and a prior exhibition curated by Clare Hall alumna Dr Margaret Smith, Hon. Curator of the Ancient House Museum at Clare in Suffolk.
Equal opportunity and music
In 2022 Clare College will be celebrating the 50th anniversary of the admission of women: it took a little longer there than at Clare Hall, which offered equal opportunity from the beginning. Clare Hall was also the first Cambridge college to be led by a woman, with the appointment of Dame Gillian Beer in 1994 — and Clare College has now elected its first woman Master, Loretta Minghella. She will take office in October, ahead of these major anniversaries.
The celebrations will benefit from the other great Clare College decision of the 1960s, to invest in a new organ and in musical excellence. The Lady of Clare loved her own portable organ, and she set music at the heart of College life, stipulating services 'with notes'. She would surely enjoy hearing the present mixed-voice choirs of Clare College and Clare Hall. Here's to the decades and centuries ahead!
For Her Good Estate: The Life of Elizabeth de Burgh, Lady of Clare, by Professor Frances Underhill, was published in 2020. ISBN 978–1–9163768–9–2 (hardback), 978–1–9163768–0–9 (paperback). All proceeds from the hardback, available directly from Clare College, and net proceeds from the paperback, go to the Friends of Clare Music (Clare College). The book website is https://barnes1.net/FHGE/ and the editor, Clare College alumna Claire Barnes, is posting on relevant characters, places and manuscripts at https://twitter.com/ClaireFromClare