'I deeply appreciated the brilliant social atmosphere and intellectual energy of Clare Hall'
In our first blog of 2023, we meet Kirsten Shepherd-Barr, a Life Member of Clare Hall and Professor of English and Theatre Studies at the University of Oxford, who is the Founder of LitHits – a digital reading project that connects the world to brilliant literature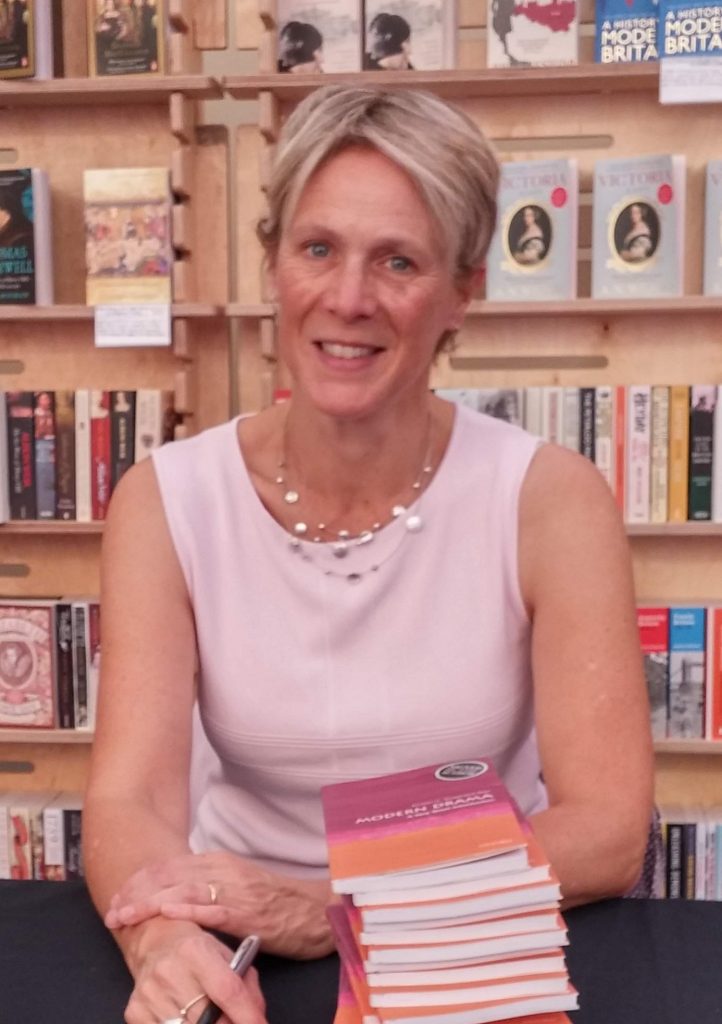 Literature and science
I guess my academic career began in earnest when, in 1990-91, I fell in love with the plays of Ibsen while studying in Norway on a Fulbright Grant. It was amazing to study him on his home turf, so to speak. I went on to doctoral study at Oxford, focusing on Ibsen's reception in Britain and France, and obtained my DPhil in English there in 1995. There were very few jobs in drama and theatre at the time and I was fortunate to get a position in 1996 at North Carolina State University. While I was there I got very interested in the way plays were engaging with science, not just more frequently but more deeply and innovatively, as in Michael Frayn's Copenhagen and Shelagh Stephenson's An Experiment with an Air-Pump. I started to write a book about this phenomenon on a sabbatical in Cambridge in 2003, and that's when I encountered Clare Hall. I owe so much to the late Professor John Barrow who introduced me to the College and supported my application for Life Membership (and who wrote a brilliant 'science play' called Infinities that I was fortunate to see in Milan and to write about in my book Science on Stage). Dame Professor Gillian Beer was also a wonderful colleague at Clare Hall and was warmly encouraging of my endeavors in the broader area of literature and science. In 2004 I moved to a position in the Department of Drama and Theatre Arts at the University of Birmingham and then, in 2007, to Oxford's Faculty of English and a Fellowship at St Catherine's College, where I've been ever since.
I've stayed in contact with Clare Hall and have introduced others to its unique and stimulating atmosphere along the way…for instance, Professor Steve Abbott whose sabbatical at Clare Hall about a decade ago was pivotal in helping him find the time and focus to write a major new book on theatre and mathematics which is coming out now. I also met Dr Liliane Campos there, and we've kept in close touch throughout the intervening decades and just published together in her book, Life, Re-scaled: The Biological Imagination in 21st-Century Literature and Performance, 2022. There is this invisible, yet strong, wider network of Clare Hall Life Members and Associates out there that has really made a difference to my career.
Founding LitHits
Two main things spurred this new project. First, I was noticing how much time we all spend on our phones and mourning all the lost reading that I assumed was happening – all those books people weren't reading because they were on their phones…then realised I was thinking about it in negative terms, as something lost, whereas what if people could read little chunks of literature on their phones? What if books and phones didn't have to be in competition with each other? This was back in 2017, and I had teenage and younger children who also were struggling to fit reading into their lives, so I thought: What if there were an app that asked you how much time do you have to read, and what are you in the mood for, and then you received excerpts direct to your phone or computer that fit the amount of time you had…?
Second, I began noticing how many book recommendations there are out there, yet they rarely give you a flavour of the text itself – they just describe it and urge you to read it. Not only is the amount of choice bewildering, but what is the source of such recommendations? Are they all reliable? That's where our Oxford-based expertise comes in: we can help readers get beyond simplified algorithm-driven reader pathways that tend to dominate the world of books. People who've tested out the concept tell us they regard LitHits as a 'trusted source' and even a 'personalised shopper' for reading (though the aim isn't to get people to buy books – it's about reading the digitised excerpts we provide for free). The excerpts we give you are unabridged so you get to read the real thing and get a good sampling of it, like tasting food or trying on clothes; and we provide light-touch curation in the form of a brief introduction to each excerpt so you can plunge right in and enjoy it. We also have a 'What We Love about this' section and a 'To Read Alongside…' section with lots of suggestions and interesting, often unexpected, connections to other literature.
One of our core aims is to make sure that LitHits represents the full and glorious diversity of literature, and includes a broad range of authors and texts from all kinds of backgrounds. We're hoping to change assumptions about what a 'classic' is and showcase a genuinely dynamic and inclusive canon of texts. This is another way in which our specialised training makes the project unique.
We've been really encouraged by the enthusiastic feedback from testing our very basic prototype app back in 2018-19, and more recently with seasons 1 and 2 of our Ten Minute Book Club, which is a LitHits offshoot led by my colleague and LitHits co-director Dr Alexandra Paddock. Alex is also running Saturday workshops with teachers to explore how they use the TMBC and LitHits models with their students to enhance their reading. We're especially delighted to find that people of all ages are enjoying it, as in this email from an 86-year old reader: 'a wonderful way of opening doors to the immense variety of books which people like me have vaguely heard of, but do not know how to approach.'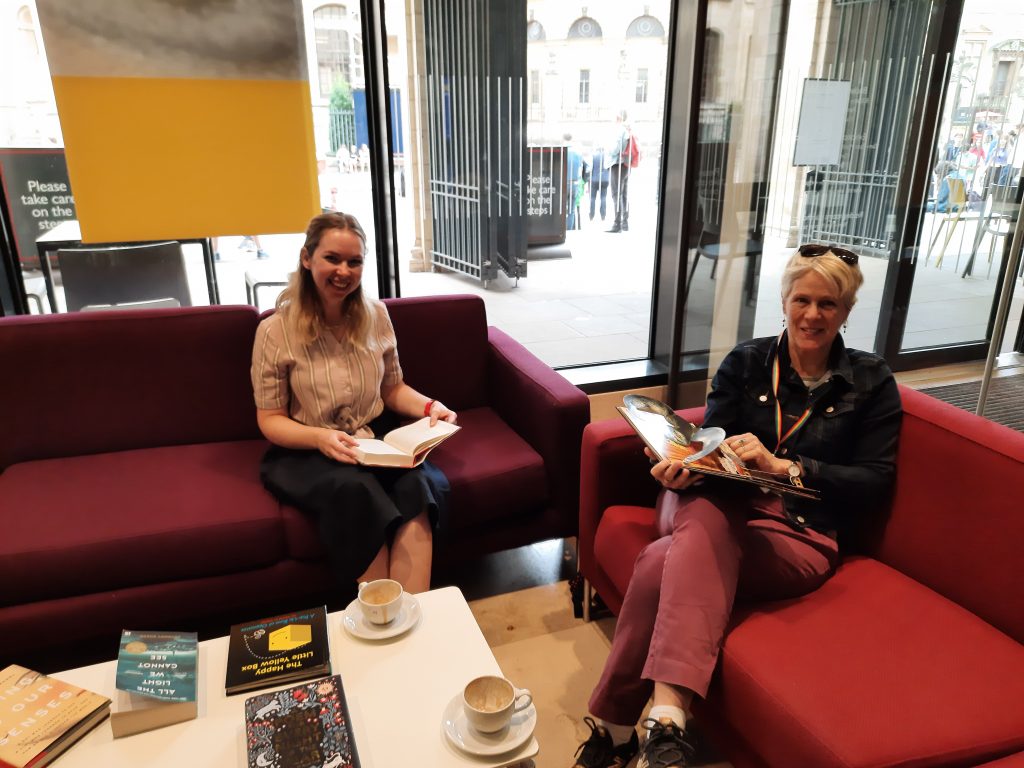 Dr Alexandra Paddock (L) and Professor Kirsten Shepherd-Barr (R) at the Weston Library, Oxford
Looking ahead
We'd love to be able to equip the app with great features like audio (so people have the option to listen to, rather than read, the excerpt they've chosen), guest curation (where readers can suggest and create their own 'hits' from their favorite reading), personal libraries of excerpts (where people can gather their favorite 'hits'), sharing of reading experiences/mini book-clubs, and so on. We think that even if reading looks solitary, it's actually communal and shared—it connects people. It would be fantastic to feel we've been helping to enhance lives not just through reading itself but through the communities it builds. We also want to fundraise, along with working with publishers, because that would give us access to books that are in copyright – currently we're limited to literature that's in the public domain and, while that is still a vast amount of books (Project Gutenberg alone has almost 70,000 freely available texts), it would be great to be able to work with more recent literature, especially illuminating links to older works and highlighting more diverse contemporary writers.
Memories of Clare Hall
First and foremost I remember how well set up the college was for meeting people – totally welcoming and easy-going, and with such a good focus on families, especially the monthly family suppers, which is rare in the Oxbridge system. I was completely new to Cambridge as both a university and a city, and I was on sabbatical thousands of miles from home writing a book and having my second child. The College was such an important anchor in my life for those two years in Cambridge. I deeply appreciated the brilliant social atmosphere and intellectual energy of Clare Hall; the friendly and welcoming faces; and the events we would get invited to, from concerts, to talks, to the annual cricket match and picnic (though cricket is still a complete mystery to me!) We also enjoyed the swimming pool, another unique feature of Clare Hall, and I took my family there regularly.
Little-known facts…
Very few of my colleagues know that I worked at Alfred A Knopf publishing company in New York right after I graduated from university (Yale, 1988). I was an Editorial and Advertising Assistant at Knopf and worked there for two years. It was an extraordinary place. You learned all the elements in the process of publishing a book, from the editing of a manuscript to the creation of jacket copy and ads to the design of the book cover to the planning of a publicity tour. Round every corner was a renowned editor, and famous writers would walk past my desk every day: Julia Child, Alistair Cooke, John le Carre, Anne Tyler, Anne Rice….My boss was the legendary Nina Bourne, who was 75 and had revolutionised book advertising. Nina resisted the dizzying array of fonts that Apple had recently given the world – she never wavered from using Optima Bold for sans-serif and Palatino for serif type. And that combination really worked! I still have copies of all the ads we did and they still look so fresh and clear. The other thing she taught me was to read. Read, read, read! The frenzied pace of publishing was a shock – I had to learn to read several huge manuscripts per week, day and night, or else I would never keep up. I'm afraid I didn't keep up very well, though reading fast has come in very handy in my career as an academic!
I'm both a US and Danish citizen, grew up speaking Danish, and go there every summer. These Danish roots are a very big part of my life. It's delightful but also a complete coincidence that I've ended up working at St Catherine's College, which is designed by the Danish architect Arne Jacobsen. On the other side of my family, my great-grandparents came from Kent: in 1910 they emigrated to Canada with seven children, some butchers' scales, and an upright piano, and settled on a ranch in Saskatchewan. I recently discovered that my great-grandmother not only ran the regional post office, general store, and gas pump, but managed to write some very fine short stories and have them published in a national magazine. I'm currently researching this part of my family history and finding it fascinating. It is strange to think that I've come full circle, bringing the family back to England!