'It's always heartening to hear both crews giving each other three cheers following a Bump'
As we enjoy the sunshine here in the UK, the minds of many will turn to what we looked forward to in summers past. Alongside May Balls, one of the highlights of June would be Bumps season, which traditionally would have begun on Wednesday 9 June and run until Saturday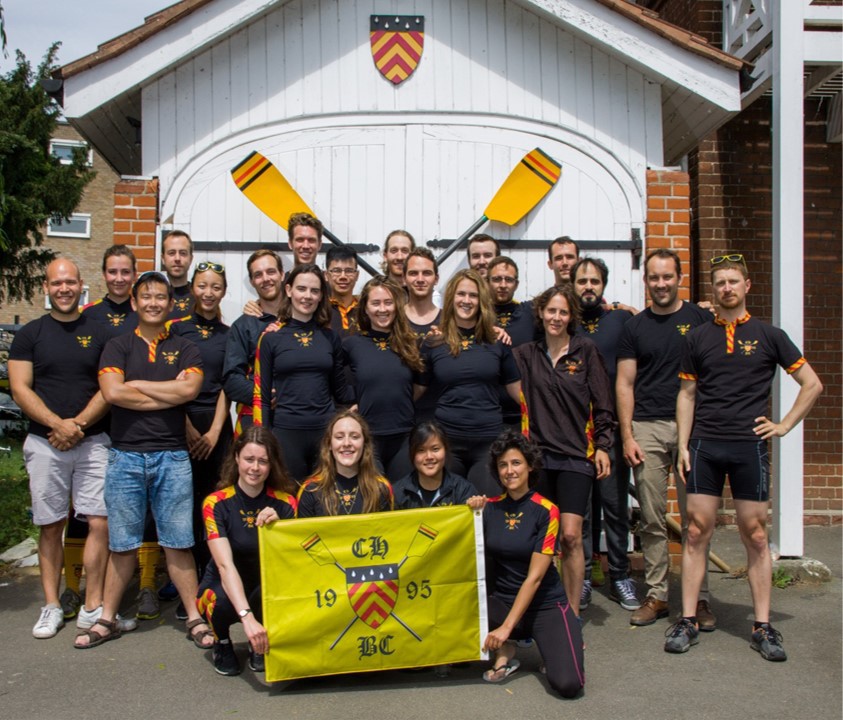 Due to the mercurial nature of the pandemic and its variants, and lack of adequate time available for teams to train and prepare (having only been permitted to return to the University en masse as recently as 17 May), the Cambridge University Combined Boat Clubs (CUCBC) cancelled Bumps. An understandable decision: 'May' Bumps is the apex toward which colleges train all year, and unfairly sliding down the rankings due to lack of practice could affect teams for many seasons.
To give our Life Members a taste of what may be missed, in this special blog, President of the Clare Hall Boat Club (CHBC), Timo Haber, interviews our incoming Senior Tutor and Bumps aficionado, Dr Holly Hedgeland, to get her perspective on what goes on behind-the-scenes of Bumps which spectators may not expect.
Timo Haber: Welcome to Clare Hall! We're thrilled to have such an accomplished Senior Tutor joining us. We hear you were the former Chief Umpire of Bumps? As President of the CHBC, on behalf of all the rowers in College past and present (and those who cheer us on), it would be wonderful to share your perspective on Bumps with our community.
Holly Hedgeland: Yes, I am a past Chair of the CUCBC and was one of the Chief Umpires of the Bumps during my time on the CUCBC Senior Committee.
I learned to row on the Cam, novicing at Downing as an undergrad — long enough ago to have done so with Macons (a style of oar more fondly referred to as 'spoons' which have been widely accepted as one of the least aerodynamic!) in a clinker. During my PhD, I moved to one of the town clubs as I wanted to keep rowing over the vacations and compete at Henley Women's Regatta, but I kept a connection to college rowing through coaching and occasional coxing, and returned to Downing for a final Mays in my last year there.
TH: How long were you involved with the CUCBC?
HH: Back in 2007, I joined the CUCBC Senior Committee, at the time having been recently elected to a Fellowship at Robinson. After a couple of years, I became the CUCBC Senior Treasurer and then Chair. I stepped down after I moved to UCL in the 2013/14 academic year, although I've popped back to give a hand for a division or two at most Bumps since!
HH: Well, there's the obvious side of resolving disputes and uncertain outcomes, such as calling a decision on re-rows or technical results in line with the rules.
However, there's also a much less visible side — I remember on one occasion having to help dig the portaloo delivery truck out of a particularly boggy spot on the common! And on another, driving down the towpath delivering the last few poles (about 20 seconds before the start, each boat is pushed out from the bank onto the river with a long pole) out of the van as the four-minute gun sounded (onlookers hear the gun four minutes before beginning, then one minute, and finally a third time when the race officially starts), leaving the van safely tucked under the A14 bridge as the division got underway.
Chief Umpires are drawn from the CUCBC Senior Committee and are tied to each Bumps. When there's a good deal of experience across the team, who acts as Chief for a given Lents or Mays will often simply depend on availability. All the roles have their rewards and challenges, but there's certainly an immediacy and camaraderie to umpiring and a successfully run Bumps that's hard to beat!
TH: In my view Bumps are unique because of a combination of factors: the course — as it isn't straight and one has to navigate the corners well (especially infamous Grassy corner!). The format — the fact that 18 boats are behind each other, which can create a lot of chaos and makes it challenging. And of course, the setting itself — as Bumps are normally happening after challenging final exams at one of the oldest universities in the world. All of these things make it special.
What do you think makes Bumps so extraordinary and such a unique Cantabrigian endeavour?
HH: I think you've captured a lot of the excitement of the event! For me, one of the great things is that excitement persists across the divisions with genuine competition and reward, whether you're in the lower divisions for your first Bumps (having noviced the previous term), or at the top, within reach of the Headship.
It's one of the great strengths of collegiate rowing that it welcomes so many with no previous experience into the sport, and allows them to develop into sharing the enjoyment of Bumps racing.
TH: At CHBC we look at Bumps as a healthy competition, but also as a fantastic event to cheer on other crews on the river and celebrate their achievements — even if they are our fiercest competitors. I think these relationships depend a lot on the mentality of the club.
Are Bumps a great way to bring all the colleges together, or an excuse for them to hash their rivalries out and release some tension?
HH: I certainly view Bumps as being about healthy and sporting competition. I've seen clubs helping each other out following equipment failures at the start to allow the full division to go ahead and avoid technical results having to be given, and for me that's the spirit of the event. It's always heartening to hear both crews giving each other three cheers following a Bump.
TH: Although Bumps is cancelled this year, we're hoping to fundraise for the CHBC so we can purchase a second-hand Men's VIII, retire our current one (CHBC's oldest and most-used piece of equipment) and come back fighting when Bumps is on the agenda again.
As one of the smallest colleges in Cambridge, Clare Hall is naturally the underdog. This is amplified by the fact that we are a graduate college, meaning there is a large fraction of rowers who are here on an MPhil. They start the year as complete novices, train up hard and compete in Bumps the same year. Despite not having a high ratio of members over multiple years and our much older equipment, we can do surprisingly well in races.
In the Mays in 2018 and 2019 the men's Team won 'Super-Blades' (where teams overbump their competitors four days consecutively), and the Pegasus Cup (for the most successful boat club that season, regardless of which division they are in) at the May Bumps in 2019.
Everyone is an integral part of the club, and we can count on each other. With this added sense of responsibility comes a true team spirit that does pay off when it gets to the last meters between your boat and the one ahead. With this inclusivity and team spirit, it would be extremely exciting to see what is possible with some updated equipment!
From your experience working on the Bumps over the years, as an observer, could you recognise the difference between colleges who had the latest equipment and professional coaches, and those who didn't?
HH: There's certainly a level where kit can become so battered and patched up as to be unreliable, and it's wise to try to work towards a cycle of maintenance and replacement so that everything's kept in good order.
It can be a great boost to a club or crew psychologically to have a new boat and you're also quite right that being able to engage an experienced coach can be really valuable, too. There's no need for colleges to get into equipment arms races, but it is important for a club to be able to cover the basics well, in order to give a safe and secure foundation for those new to the sport and to support those keen to move up to higher levels of competition.
TH: A huge portion of our alumni will have rowed under very different circumstances. How do you think today's squads would perform in boats from previous generations?
HH: We should make the distinction between an exhausted banana-shaped boat with broken shoulders and bent riggers, which is a completely different animal from a beautifully crafted wooden racing shell or fine single. Some of the equipment of former generations had exquisite craftmanship.
Whether now or then, the squad needs safe and reliable equipment of sufficient quality that crucial skills, such as balance and timing, can be developed to the point where you feel the difference in the response of a new, more rigid shell under your feet.
TH: What would you say to those who haven't been to a race on the Cam before and might be reluctant to attend because they don't know anything about rowing?
HH: If you attend Bumps, you'll often see Cambridge families enjoying the racing with a picnic laid out at a safe vantage point away from the towpath, as well as students and alumni supporting their colleges and friends, or passers-by stopping to absorb the atmosphere. The format of racing is pretty intuitive for those who've never taken part, and it's hard not to be excited as you watch the crews chase past.
I'm very much looking forward to seeing the Bumps return safely after the pandemic — after all, the last time the Mays were cancelled was during the Second World War!
For those still wanting to get the hit of adrenaline, alternative races to Bumps have been organised. Instead of the traditional 'chasing' format, CUCBC will be hosting a side-by-side Regatta on the Long Reach between Monday 21 — Thursday 24 June (with a Getting On race on Sunday 20 June).
Don't forget to monitor Clare Hall's social media each day of this Bumps season (Wednesday 9 — Saturday 12 June) for more Clare Hall rowing content to slake that rowing thirst!