Clare Hall Student Mathew Neville receives Cambridge University Annual Sports Award
Clare Hall student Matthew Neville received the award for Outstanding Contribution, for his efforts during his time at Cambridge with the Ice Hockey Club at the annual Sports Awards event at the Sports Centre.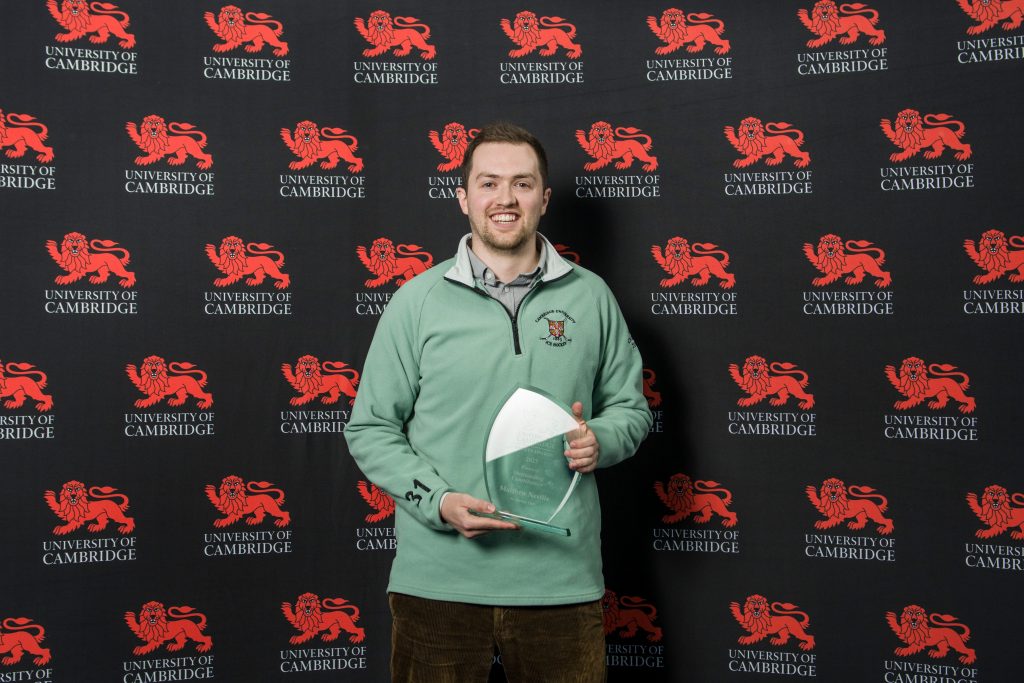 Simrat Sodhi, CUIHC President says,
Matt has been an exceptional member of our club, serving in various roles and making significant contributions throughout his time here.

Matt joined CUIHC during his MPhil degree in 2018 and has continued to play for the team while pursuing his PhD in Genetics. Thanks to his outstanding performance as our goaltender, the team managed to win the Varsity Match an impressive five times in a row for the first time in Club history and he was awarded the Full Blue three times. When he was struggling with injuries this season and he could not play for most of it, he stepped up to coach other goalies in the club and helped them improve.

However, Matt's contributions to the club go far beyond his performance on the ice. He has taken on numerous leadership roles within the club, including alternate captain, co-captain, treasurer, president, and co-president. In these roles, he demonstrated excellent organisational skills and attention to detail, handling a wide range of day-to-day tasks that are essential to keeping the club running smoothly such as booking the bus for travel to away games, organising the training camp in Switzerland, liaising with the Sports Service, Oxford, and other teams, as well as ensuring the Club could continue operating as much as possible throughout the COVID-19 pandemic.

Matt's contributions to the club go even further. One of Matt's most significant contributions to the club was his role in merging the Men's and Women's clubs in 2020. His vision, leadership, and commitment to inclusivity and diversity helped to create a more unified and supportive club culture, which has benefited all members of the club and set a good example to follow for other clubs within the University.

Matt has been a key figure in our social environment, always eager to host the team at his house for meals, parties, barbecues, or get-togethers, strengthening team spirit and creating a sense of community within the club. He embodies the values of loyalty, integrity, and professionalism, setting an excellent example for others to follow. He is an effective communicator, able to handle delicate situations with tact and diplomacy both within and outside the club. He is well-respected by our teammates and competitors alike, and it will be incredibly hard to replace him when he leaves.
We are incredibly proud of Mathew's contribution to the Ice Hockey Club and wish him the best for his future endeavors.