Dementia research: Dr Julie Qiaojin Lin named UK DRI Emerging Leader 2021
Dr Julie Qiaojin Lin, a Research Fellow of Clare Hall, has been recognised as an Emerging Leader in dementia research by the UK Dementia Research Institute (UK DRI).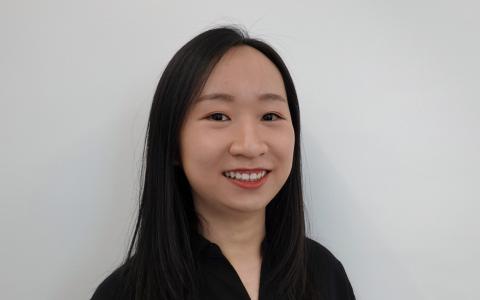 Dr Lin is a Sir Henry Wellcome Postdoctoral Fellow, hosted by Professor Giovanna Mallucci's Lab in the UK DRI at Cambridge and jointly sponsored by Professor Clemens Kaminski at Cambridge and Professor Jernej Ule at UCL. She joined the UK DRI in 2018 following her PhD training in Professor Christine Holt's Lab at Cambridge as a Gates Cambridge Scholar, studying local protein synthesis in axons of healthy and disease-affected neurons. Becoming a UK DRI Emerging Leader in 2021, her current research programme focuses on the dynamic localisation of RNA and proteins in neuronal compartments and how the localised molecules orchestrate synaptic structural and functional plasticity.
Using advanced imaging and multi-omics approaches, Dr Lin investigates early aberrant changes of local molecular organisation that ultimately lead to synapse loss and neurodegeneration.
On being named a UK DRI Emerging Leader, Dr Lin says:
'I am deeply honoured for the recognition as a UK DRI Emerging Leader and to be part of the network formed by a group of talented young scientists working towards the same goal – fighting, preventing and eventually curing dementia. As an early career researcher, this programme is a fantastic opportunity for building up my independent research skills and extensive collaborations. My current research aims to understand how synapses, the connection and information relay sites between neurons, maintain their structure by receiving supports from surrounding molecules, how neurological disease progression might affect various activities occurring around synapses, and how we might be able to help neurons protect themselves by rescuing synapses with signs of declining health.
Although I joined Clare Hall during the pandemic, I have enjoyed every opportunity to meet Fellows and students virtually to share my research and learn about others' work and life. Look forward to meeting everyone in person and chatting around the dining table soon!'
---
Learn more about the UK DRI Emerging Leaders programme at https://ukdri.ac.uk/news-and-events/emerging-leaders-announced