Music at Clare Hall: first concert of new academic year announced
Clare Hall Music Committee is thrilled to release tickets for its first concert of the new academic year – a recital by the College's quartet-in-residence, the Fitzwilliam String Quartet.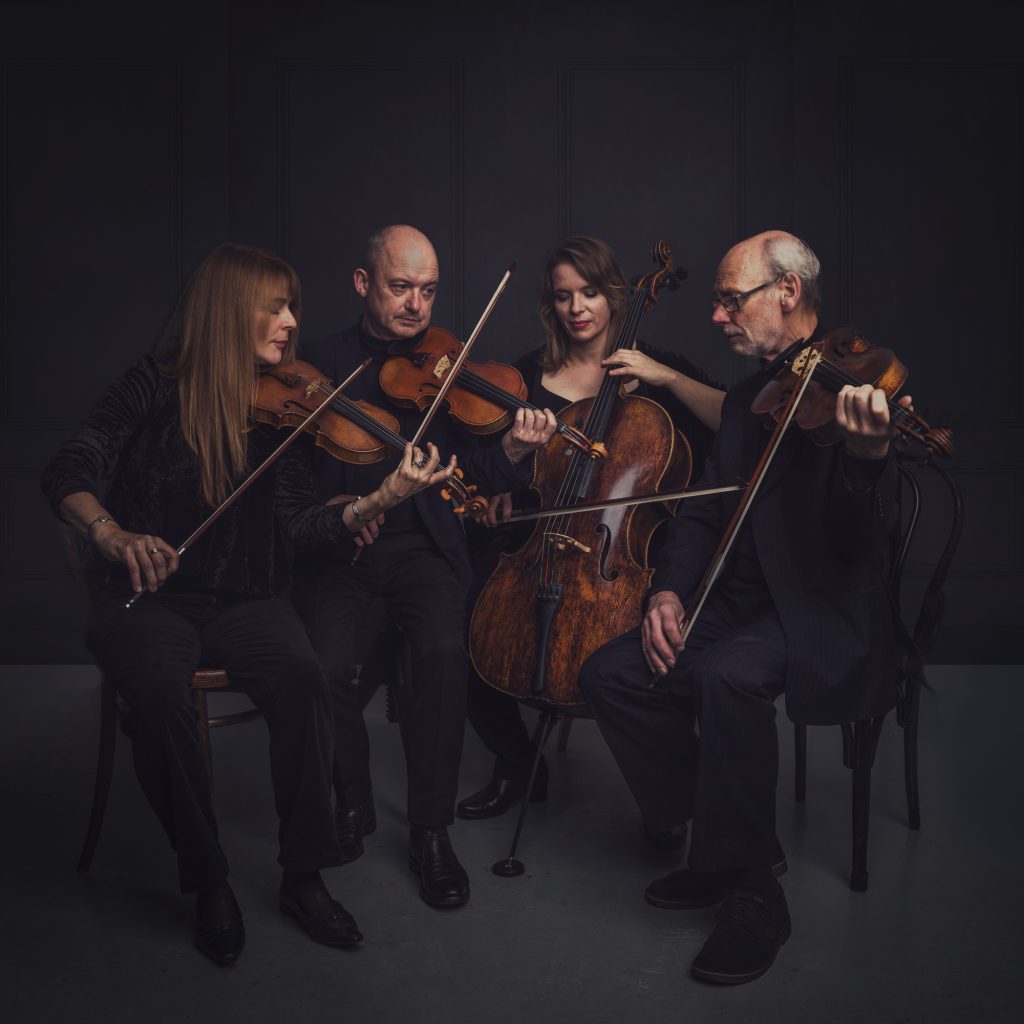 Enjoy a selection of incredible works by Praetorius, Brahms, Dvořák and Mendelssohn on Sunday 2 October, live from our Dining Hall from 7.30pm.
Tickets and further details are available via Eventbrite: https://www.eventbrite.co.uk/e/fitzwilliam-string-quartet-live-in-concert-tickets-406801683787
About FSQ:
Founded in 1968 by four Cambridge undergraduates, Fitzwilliam String Quartet quickly achieved international recognition as a result of its members' personal friendship with Dmitri Shostakovich and their subsequent championing of his string quartets.
'The playing of the music was absolutely immaculate, with its subtle feeling of style and deep penetration into its content. The intensity with which they played shone through, and musicians and audience alike were caught up in a common extravaganza.'
– Alexander Kantorov, St Petersburg Times
Programme:
PRAETORIUS – Chorale: Es ist ein Ros' enstsprungen (1609)        
BRAHMS – Chorale Prelude: Es ist ein Ros' entsprungen, Op.122 No.8
DVOŘÁK – Drobnosti, Op.75a
MENDELSSOHN – Quartet in F minor, Op.80
BRAHMS – Piano Quintet in F minor, Op.34, with Patrick Hemmerlé
The quartet shares:
'As we begin our second year here at Clare Hall, we continue our quest for college members and guests to be offered as complete a coverage as possible of those specific areas of music which have helped put the FSQ on the map. Indeed, the first programme again sets the tone, this time by delving back still further into musical history, with the result that our 2022/23 repertoire embraces music composed 404 years apart! We are proud of our drive to push the boundaries of the quartet repertoire back into the seventeenth century – sometimes employing historical instruments in the process – as well as keeping right up-to-date with new commissions.
Whilst this evening's sounds are decidedly Teutonic, based around the north German Brahms, it is via him that we deviate to the Slavonic Dvořák – a composer he so admired that he wished he could have written some of his music himself! Indeed, this season sees a third attempt (thanks to Covid) to perform his quintet with Patrick: it will be a particular pleasure finally to begin a new association here with him, setting off with this outpouring of passion for Clara Schumann, now tender, now wild…… The great Hungarian violinist Jozsef Joachim was a special friend of both Brahms and the Schumanns, closely involved with the complex provenance of this quintet – and already responsible (at the age of sixteen) for the first performance of Mendelssohn's harrowing F minor string quartet. This was on 4 December 1847, exactly one month after the death of his beloved sister Fanny had hastened his own premature demise.'