Art at Clare Hall: exhibition by Jerry Scott takes us on a 'journey through colour and texture'
Clare Hall is this autumn delighted to present an exhibition by Jerry Scott. Titled A Feast for the Eye, the exhibition is representative of the artist's work over the last twenty years, featuring both paintings and collages.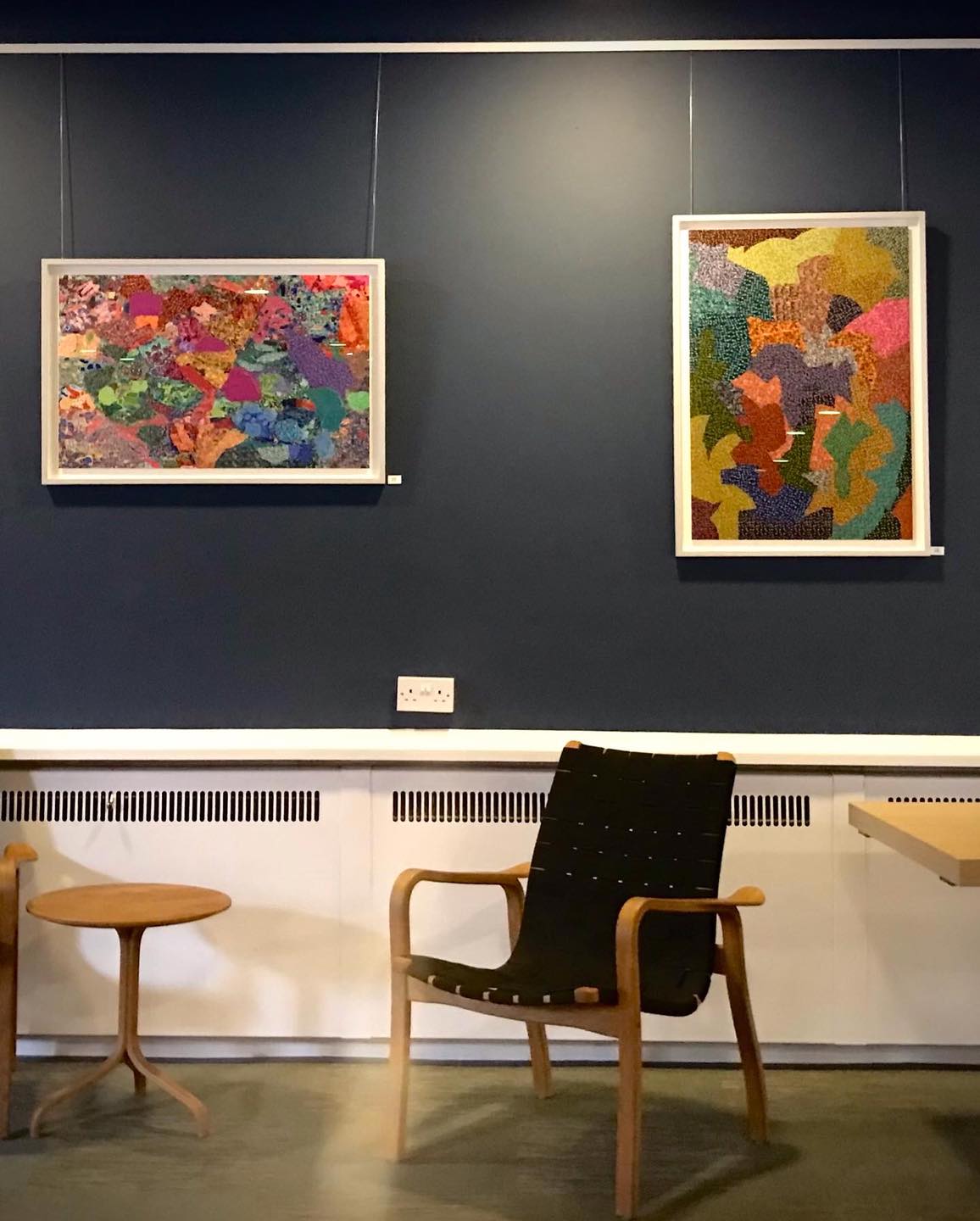 Frances Spalding, Art Committee Chair and Curator of this exhibition, writes:
'Jerry Scott's collages have rightly been called a journey through colour and texture, offering an experience of great richness and depth. Their characterful material presence owes much to the fact that he designs and prints his own papers, many of which are close-patterned and therefore add to the density of the overall effect. Damascene – Night Weaver is an example of just how immersive these collages can be: beautifully crisp in its arrangement of forms, it simultaneously shimmers with small dots of light. Many artists who use collage let in chinks of the ground beneath the collage, to point up the play between artifice and reality in the making of art. But Scott's collages have a firmness and completeness that disavows teasing distractions. Instead, there is a strong sense of the physical involvement in the chopping, cutting, and abutting of one piece next to another. It comes as no surprise, therefore, to learn that Jerry Scott began his career as a sculptor, working with steel, and that, in whatever medium he has employed, there has always been a strong physical involvement with his materials.'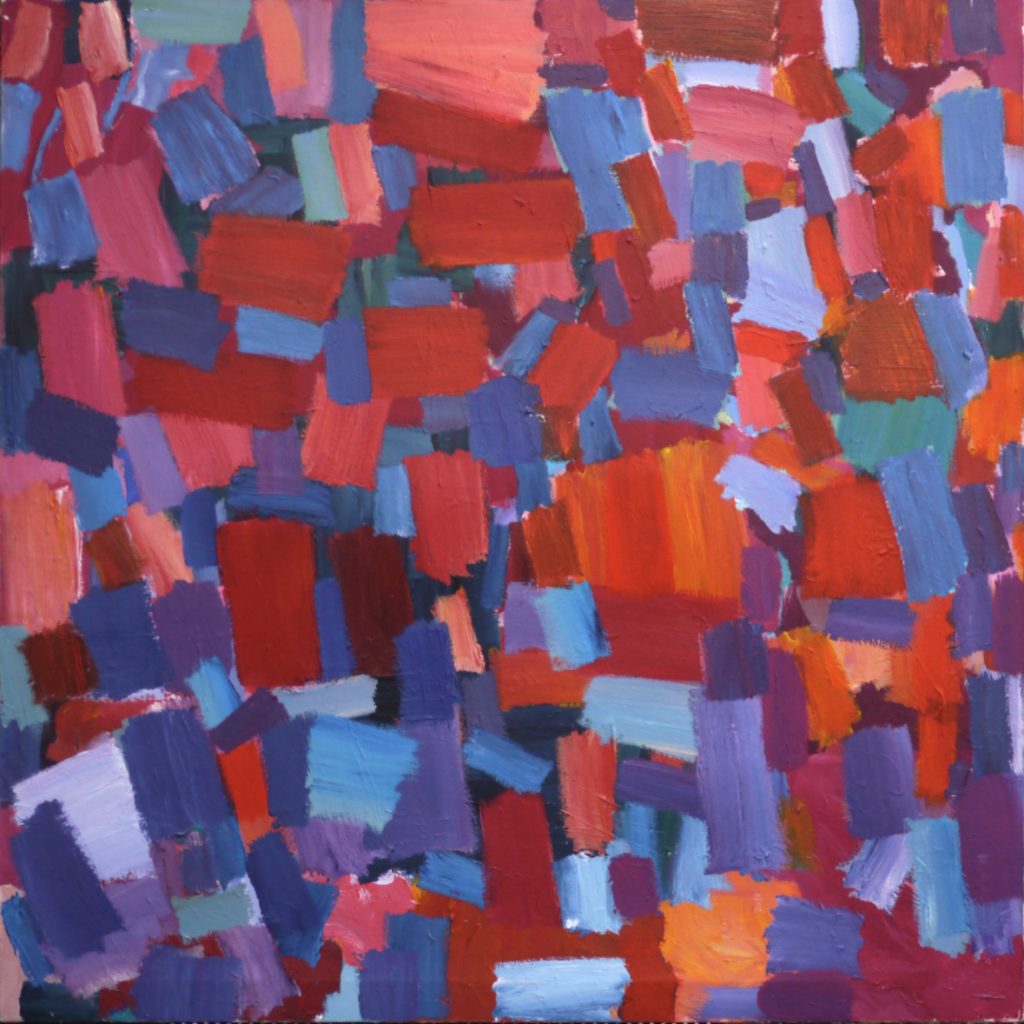 'His paintings have a quite different character. They are often rougher and more rugged, as in Crown Cardinal, in which a glorious suffusion of feeling comes through the unfussed blocks of warm and cool colours. His paintings, with their greater spontaneity and flexibility, seem to invite a more exploratory vein and a willingness to risk failure, which the brilliantly inventive and more polished collages do not permit. Both, however, depend on a sense of underlying formality: only very rarely does Scott include nowadays any hint of direct representation, yet his collages and paintings are often informed, directly or indirectly, by his love of gardens and nature. Scott is also a great looker at the art of others. On Instagram he has posted over 5,000 pictures over the last nine years, thereby attracting, with his discerning eye, a considerable following for his finds. Some are little known works by major artists, but all are fresh and surprising, reawakening the pleasure given by a feast for the eye.
Clare Hall is delighted to show this exhibition. It conveys a passionate delight in colour, pattern and texture and the way they can be used to affirm the fullness of life. This is the kind of art that does not give itself up completely at first sight. Each time it is revisited, further, different, or new sensations emerge. Give time to Scott's paintings and collages, and you will be surprised by these mutations.'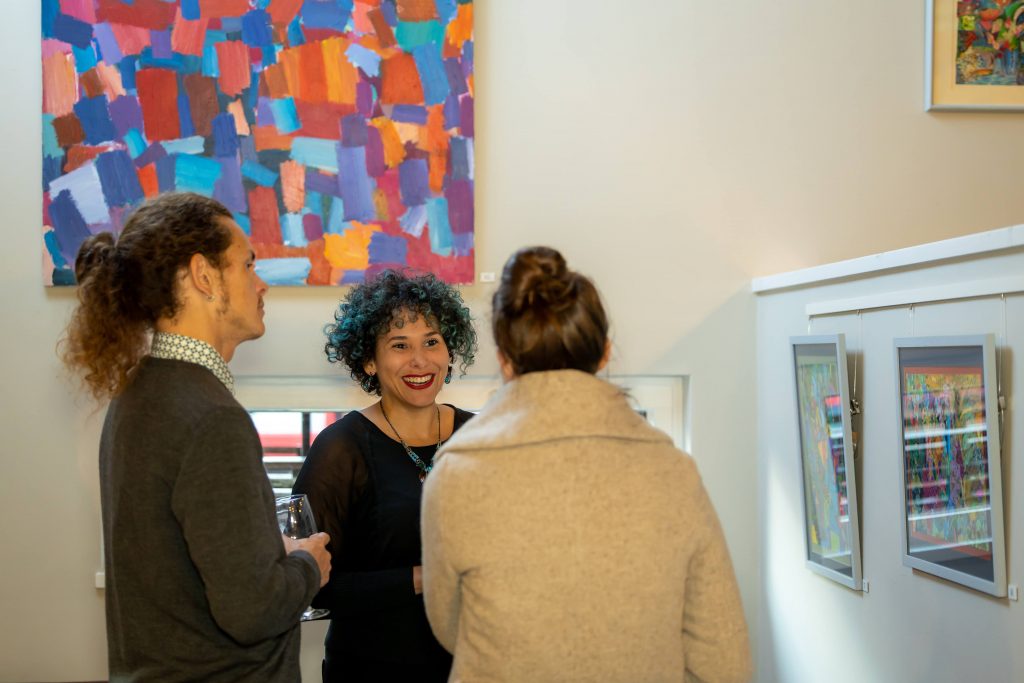 A Feast for the Eye – an exhibition of paintings and collages by Jerry Scott runs from Friday 30 September to Thursday 17 November 2022, and is open to the general public free of charge. Learn more about the exhibition and plan your visit on this page.
For media enquiries, please email Katherine Selby, Communications & Marketing Manager at Clare Hall, on communications.manager@clarehall.cam.ac.uk