Piper's stained-glass: Professor Frances Spalding to give talk
Professor Frances Spalding, an Emeritus Fellow of Clare Hall, will give a talk on John Piper's stained glass for the British Society of Master Glass Painters in January 2022.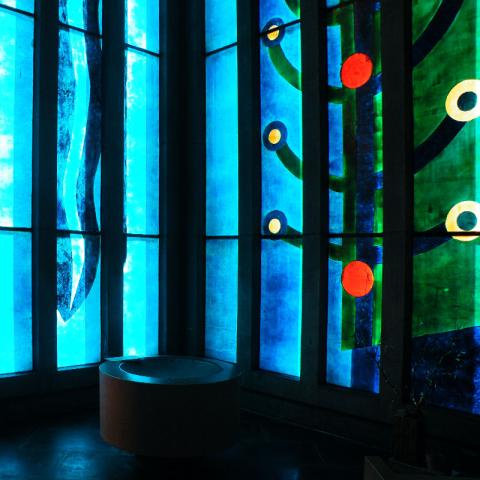 The Society's first online lecture of the new year coincides with the Centenary touring exhibition visiting All Saints Church, Bristol, where John Piper made some extraordinary windows.
The artist did not begin designing stained glass until he was in his early 50s, but went on to undertake over 60 works in this medium across the next 30 years. Stained glass had made an unforgettable impact on him as a child, and in early adulthood he began making copies of stained glass in watercolour.
Professor Spalding's talk will look at Piper's interest in and involvement with stained glass across his lifetime, covering some of the conclusions he drew from it.
The talk is being streamed online on 21 January from 7pm. Learn more at https://www.bsmgp.org.uk/news-events/events/lectures/
John Egerton Christmas Piper CH was an English painter, printmaker and designer of stained-glass windows and both opera and theatre sets. His work often focused on the British landscape, especially churches and monuments, and included tapestry designs, book jackets, screen-prints, photography, fabrics and ceramics.
Professor Frances Spalding is an art historian, critic and biographer.