Affective Intelligence and Robotics: Minja Axelsson's research on robots and wellbeing highlighted by the University
Clare Hall PhD student Minja Axelsson's research focus is human-robot interaction and affective computing. She examines how human-robot interaction could be applied to improve our mental wellbeing. This week, her research within the team of Dr Hatice Gunes has been highlighted by the University, via its research webpages.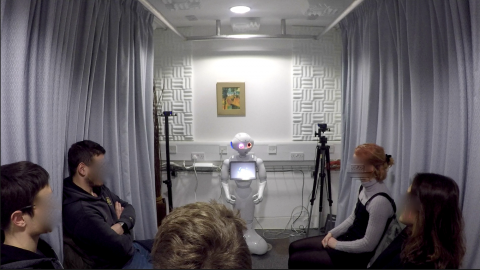 Dr Gunes is a Reader in Affective Intelligence and Robotics at the University of Cambridge's Department of Computer Science and Technology. She is working on two projects to identify specific challenges so they can be addressed from the early stages of a robot's design. Through a focus group and interviews, her team have explored people's attitudes to being coached by a robot, and what they would expect from the process. Dr Gunes sees robots as a means of making wellbeing practices such as mindfulness more accessible to healthy adults, to prevent mental health deteriorating to the point where medical help is needed.
'Some people were more open to the idea of a robot coach than others, but many said they would give it a try if there was evidence to show the sessions were effective,' says Minja, reflecting on her recent project work.
Within one strand of the research, Minja asked a discussion group what a wellbeing-focused robot should look like: should it be a machine without a face? Or if it has a face, would an animal or a human face be better? The group were shown videos, made by external developers, of different types of robot to help them understand the capabilities of each.
Learn more, and enjoy a video featuring Pepper 'the emotional humanoid robot built to benefit mankind', at https://www.cam.ac.uk/stories/wellbeing-robot