Astrophysics and Cosmology: Professor John Barrow's research honoured by RAS
Research by the late Professor John Barrow, a Fellow of Clare Hall, was recently honoured during a specialist discussion organised by the Royal Astronomical Society (RAS).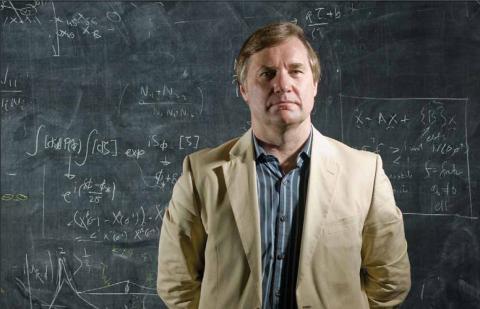 John Barrow FRS (1952-2020) was Professor of Mathematical Sciences here at Cambridge. His output was prodigious, publishing more than 500 research papers in astrophysics and cosmology, many as single author papers. A major theme of his research was using astronomy to probe fundamental physics, proposing how measurements could be made at precisions beyond those possible in laboratory or accelerator experiments. A particular focus was on determining whether there may have been slow variations in the 'constants of nature,' like the fine-structure constant, during earlier epochs of cosmic history.
On the discussion, the RAS said:
'Ever since Paul Dirac let the cat among the pigeons in his seminal 1937 paper, the possibility that the fundamental constants of nature might be neither constant nor fundamental has haunted the foundations of physics. The legacy of John Barrow in the field of 'varying constants' is immense, covering not only both theory and observations in their usual separate lives, but contributing to the interplay between them. In this meeting we celebrated this legacy by going to the forefront of the field Barrow helped to create and consolidate.'
You can catch up here: https://www.youtube.com/watch?v=yEdFpT2IoqA