STEM for Britain: Hayden Salway wins silver medal from Royal Academy of Engineering
Congratulations to Hayden Salway, a Sensor CDT PhD student at Clare Hall, who this week attended Parliament to present his engineering research as part of STEM for Britain, winning a silver medal.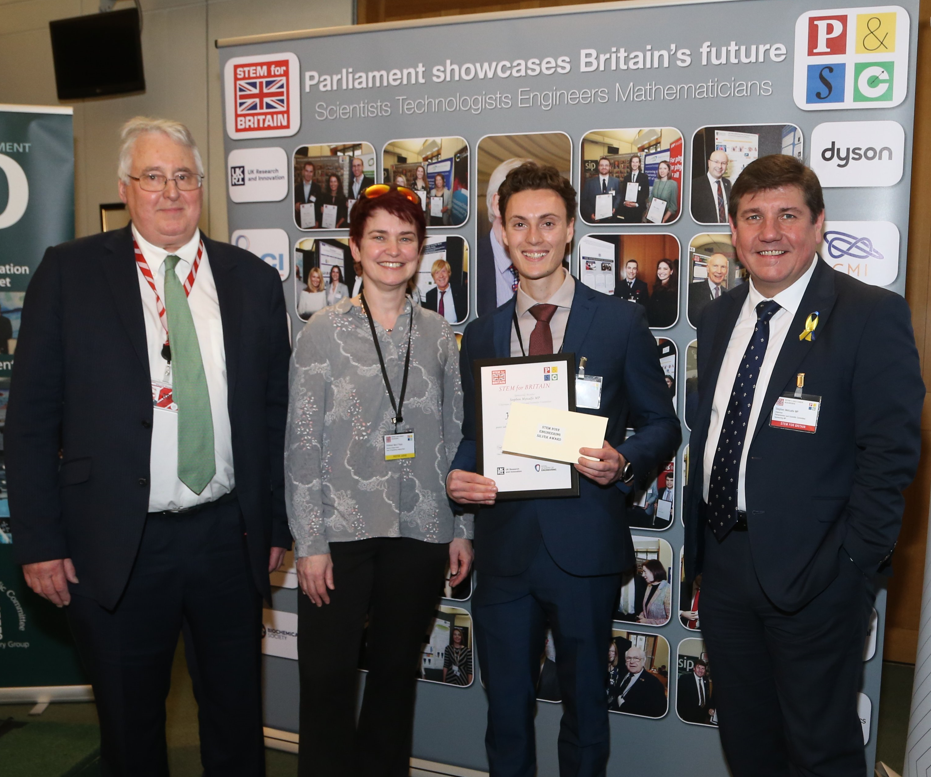 Hayden's poster on developing novel materials to revolutionise medical X-ray imaging was judged against dozens of other scientists' research in the only national competition of its kind.
On presenting his research in Parliament, Hayden said:
I am thrilled and honoured to have been awarded the silver medal from the Royal Academy of Engineering. It was a pleasure to be able to present my research to such a wide variety of people, from MPs and policy-makers to academics, and I hope this will help grow future research ideas and collaborations. It was inspirational to see so many exciting research posters and meet peers from across the UK. Congratulations to all the participants and winners.
Hayden is a Sensor CDT PhD student in the Department of Chemical Engineering and Biotechnology, supervised by Dr Miguel Anaya, Professor David Fairen-Jimenez and Dr Samuel Stranks. His research focuses on the synthesis and characterisation of Perovskite composite materials for next-generation X-ray detectors for use in medical and security applications. The number of X-ray diagnostics is increasing year on year and expected to accelerate with routine diagnostics becoming crucial in the early detection of disease. Therefore, the development a new material which can exceed current commercial materials, providing the potential the lower X-ray dosage, making testing safer for patients, improving image resolution and increasing the expansion of medical imaging into community sectors.
Chair of the engineering judging panel, Professor Mary Ryan FREng, commented:
'It is always a thrill to see the sheer variety of high-quality engineering projects and to meet so many great young researchers who want their work to make its mark, and who present their work with such skill and enthusiasm. It has never been more important for us, as engineers, to engage with policy-makers and explain the ways in which our work can contribute to the UK's competitiveness and prosperity. The STEM for Britain competition provides a fantastic showcase for the rising stars of engineering in the heart of Westminster.'