This Cambridge Life: Dr Madeline Lancaster profiled by the University
Dr Madeline Lancaster, a Fellow of Clare Hall and Group Leader in the Cell Biology Division of the Medical Research Council Laboratory of Molecular Biology (LMB), has been profiled in the University's 'This Cambridge Life' blog series.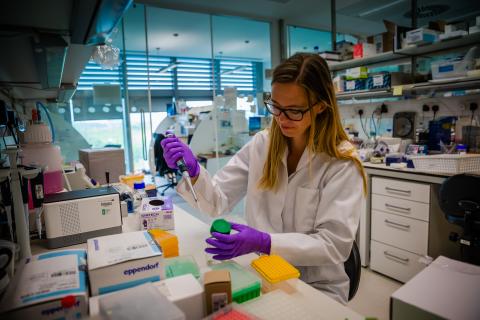 In the piece, Dr Lancaster reveals details on her research with mini brain tissues – three-dimensional tissues known as organoids. Research in the Lancaster Lab focuses on human brain development using stem cells to generate brain organoids that allow modelling of human brain development in vitro. The laboratory studies the most fundamental differences between human brain development and that of other mammalian species.
Discussing serendipity and a sense of adventure in science, she shares:
'Science is like exploring. Five-hundred years ago people were mapping the world. Now we've turned inward and are trying to map out what's going on inside our bodies. Every experiment is a discovery. It's great fun to look down the microscope and know that you're the first person in the history of humankind to witness a particular biological phenomenon. It's so thrilling.'
Dr Lancaster was recently one of six scientists to be awarded a prestigious Vallee Scholarship in 2021.
Learn more in the article: https://www.cam.ac.uk/this-cambridge-life/the-neurobiologist-who-grew-mini-brain-tissues-in-a-dish