Women in Engineering: Dr Sohini Kar-Narayan in WES Top 50
Congratulations to Dr Sohini Kar-Narayan, an Official Fellow of Clare Hall from the Department of Materials Science, University of Cambridge, who has been named a WES Top 50 Women in Engineering 2021.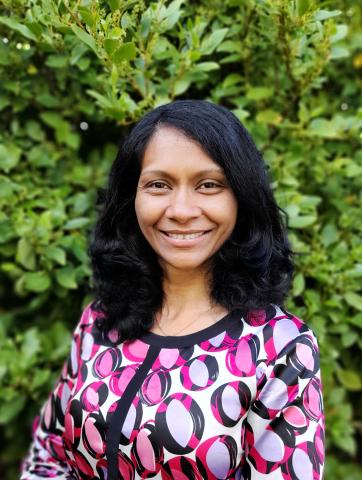 Founded by the Women's Engineering Society in 2016, the WE50 awards are linked to International Women in Engineering Day – the celebration of women in engineering that takes place on 23 June each year.
Working within the Device Materials Group here at the University, Dr Kar-Narayan's research aims at developing functional nanomaterials and devices for applications in energy, sensing and biomedicine. Her work involves piezoelectric, ferroelectric, magnetoelectric and thermoelectric nanostructures for harvesting and harnessing ambient waste energies, and extending these functionalities to sensing applications as well. She focuses on employing scalable and low-cost physical and chemical synthesis approaches to fabricate novel phases and functional nanostructures for incorporation into devices, with the aim of developing early-stage prototypes and eventual commercialisation of energy harvesting and self-powered sensing technologies. An example is the spin-out company ArtioSense Ltd, that she has recently co-founded, which seeks to deliver low-cost conformable sensors that can aid orthopaedic surgery through real-time force monitoring in joints.
On receiving the award, Dr Kar-Narayan shares:
'I am absolutely thrilled by this award, and to be recognised as an "Engineering Hero" will go down well with my kids! My late father was diabetic and suffered from heart disease, and this played a role in my desire to use science and engineering to improve patient care by developing self-powered devices that can offer personalised healthcare and remote health monitoring, and new technologies to study and manage the progression of disease at a cellular level. I am so grateful to WES for this award, and of course to all the people who have supported me over the years, including my brilliant research group without whom this would not have been possible.'
Dr Kar-Narayan was also nominated for a Cambridge SU Student-Led Teaching Award earlier this year. On this she comments:
'I was truly honoured and humbled to have been shortlisted for a Cambridge SU Student-Led Teaching Award. It has been such a challenging year for everyone, including students themselves, in terms of adapting to online teaching and assessment. This recognition therefore feels particularly special as it comes from the students. I am so proud of how they have dealt with this difficult period, and I am so delighted to have made a positive impact on their experience.'
Learn more about Dr Kar-Narayan's research at https://www.kar-narayan.msm.cam.ac.uk/; and about International Women in Engineering Day at https://www.inwed.org.uk/