Spaces for hire
Explore the range of suites and rooms we can offer for hire below.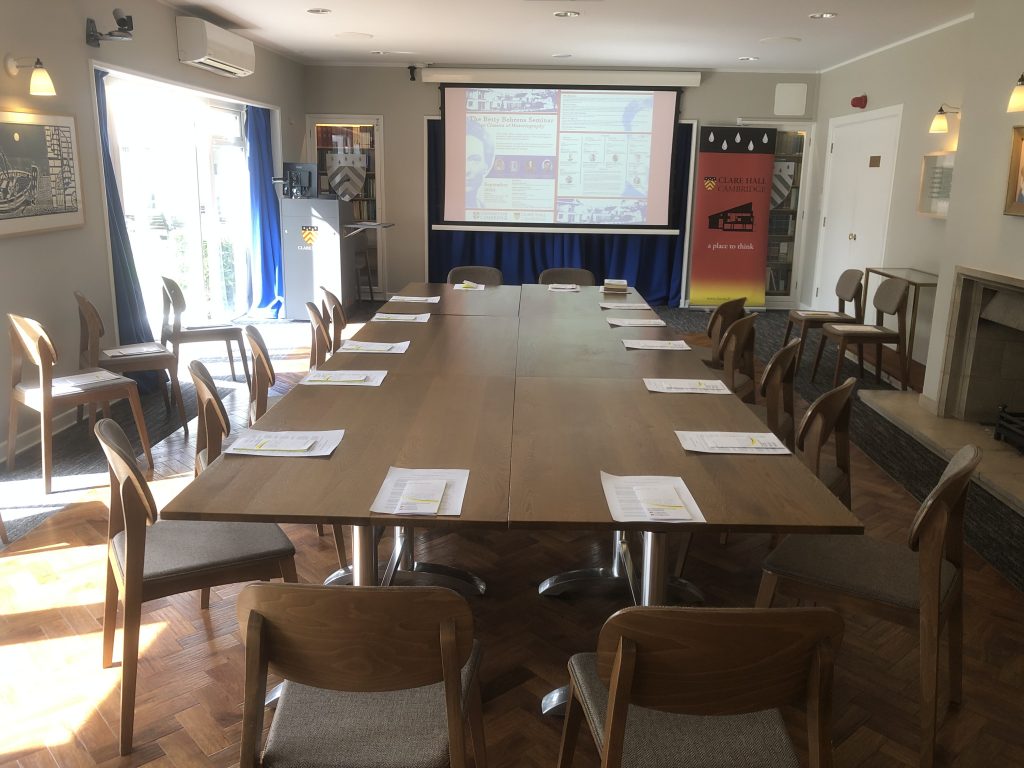 The Richard Eden Suite
Located at West Court, approximately 400m from Clare Hall's Main Site, the Richard Eden Suite is a versatile venue suitable for lectures, board meetings, or private dinners.
The suite has a variety of modular tables which can be arranged to suit, or removed entirely for lecture-style presentations. The room has a built-in IT/AV system with projector, ceiling-mounted collapsible display screen, and speakers, which can be further enhanced using the College's Owl camera.
A full professional kitchen on-site makes everything from a buffet lunch to a four-course private dinner possible; access to the West Court lawns, and the suite's two adjoining rooms may also be requested, to facilitate breakout sessions or provide a more relaxed atmosphere for your event.
The maximum capacity of the room is 55 (seated, lecture-style) or 40 (dining).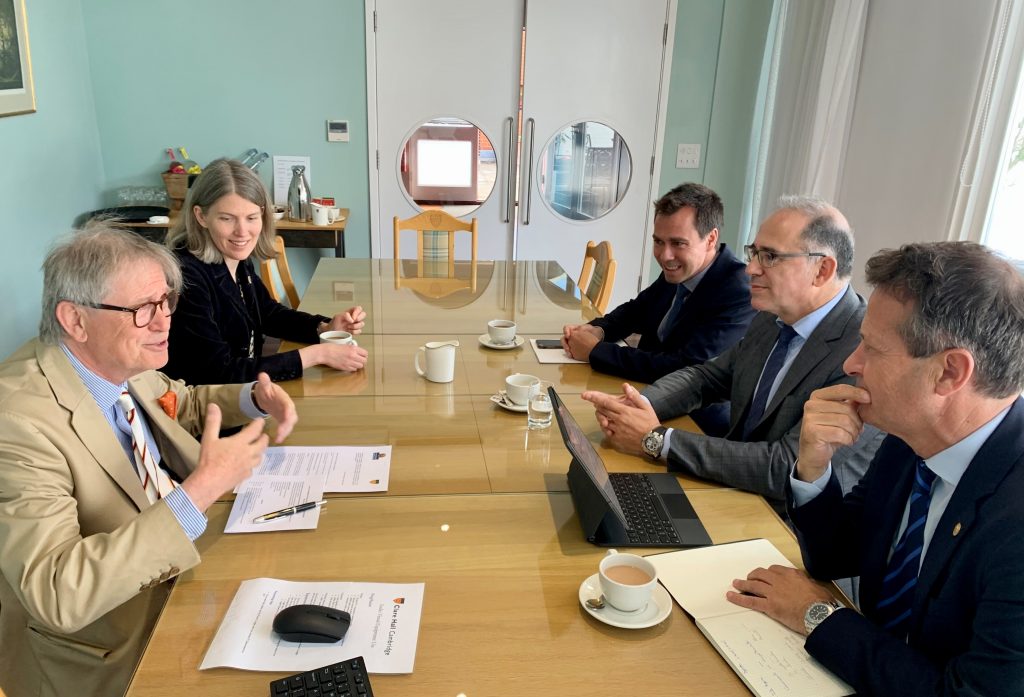 The King Room
Located just a few meters inside the College, opposite the Common Room and Porters' Lodge, the King Room offers a quiet and intimate venue for meetings, tuition, or dining events.
With a standalone IT/AV setup, the King Room supports video conferencing and presentations.
Catering is made possible via the Main Site kitchens just a few meters away, and a patio with a table suitable for six is available in better weather.
The maximum capacity of the room is 20 (seated) or 12 (dining).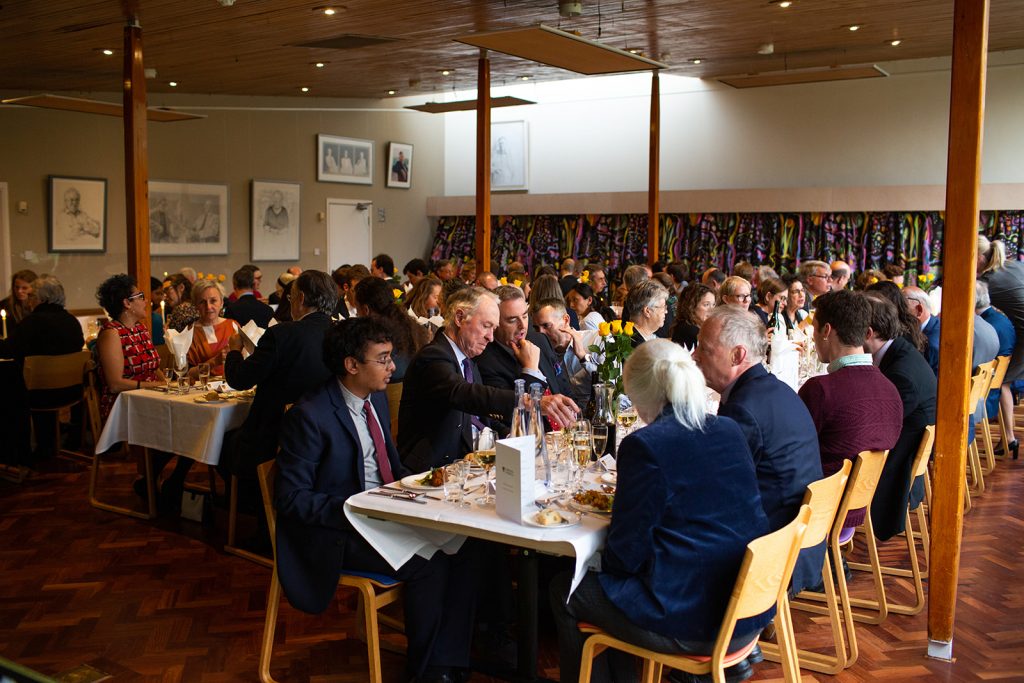 The Dining Hall
The Dining Hall is located centrally within Main Site, bounded by the Common Room, College Bar, and Fellows' Garden, all of which may be requested as part of an event booking.
The room itself is spacious and light with windows along one half of its walls, with curtains available to completely cover three-quarters of the room if desired. The room is versatile, and is variously used by the College for routine dining, formal dinners, concerts, and speeches.
A grand piano is permanently located at one end of the room and may be played on request; a terrace with extra seating and tables is adjacent to the Dining Hall and may also be used during an event.
The maximum capacity of the room is 90 (concerts and lectures) or 84 (dining).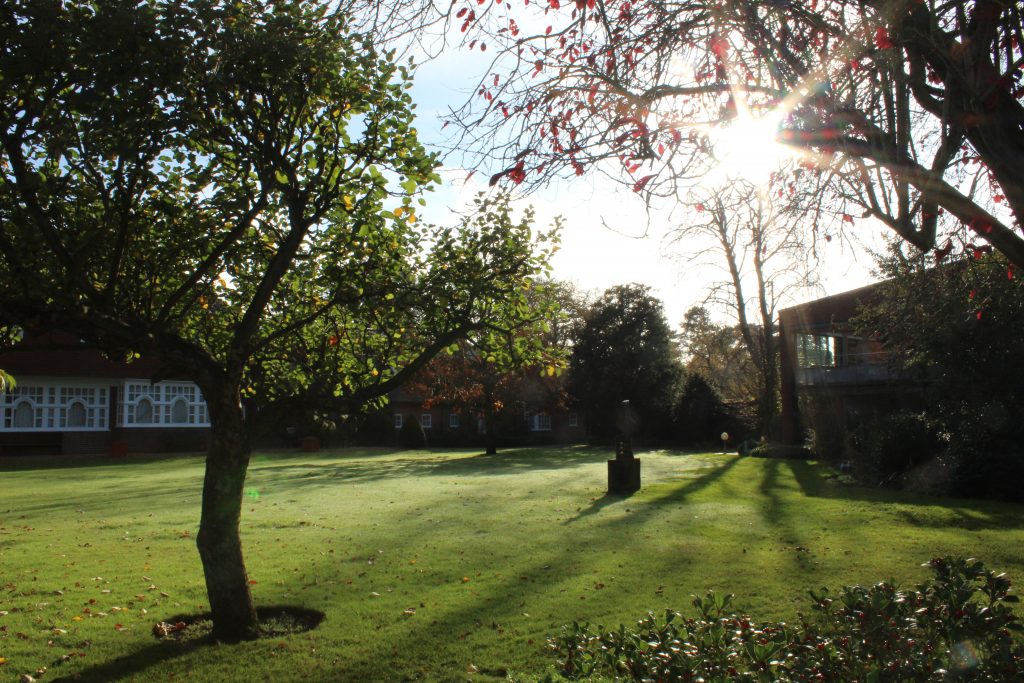 The Fellows' Garden
The Fellows' Garden offers a beautiful and spacious area in which to mingle and may be used as an outdoor venue in its own right, or in conjunction with the Dining Hall.
There is sufficient space for up to 150 people to gather and move around freely, enjoying the grounds with or without catering.