The Bell Collection
The Bell Collection of British Studio Pottery, 1920-1980, a generous bequest of Clare Hall Associates Professor G. H. Bell and Mrs K. M. Bell, is available to enjoy year-round in the College's Main Site, with a rotating display drawing from some 320 pots.
Open from 10am to 5pm daily, free admission.
For any queries ahead of your visit, please email porters@clarehall.cam.ac.uk
From 1963 onwards, Professor and Mrs Bell collected pottery by leading figures in studio ceramics, including Bernard Leach, Shōji Hamada, David Leach, Richard Batterham, Tatsuzo Shimaoka, Marianne de Trey, Michael Cardew, Seth Cardew, William Marshall, Janet Leach, Ladi Kwali, Robert Fournier, Alan Wallwork and more. The collection features pieces in a variety of materials and decorative styles including raku, soda glazed, salt glazed, ash glazed, earthenware, stoneware and porcelain.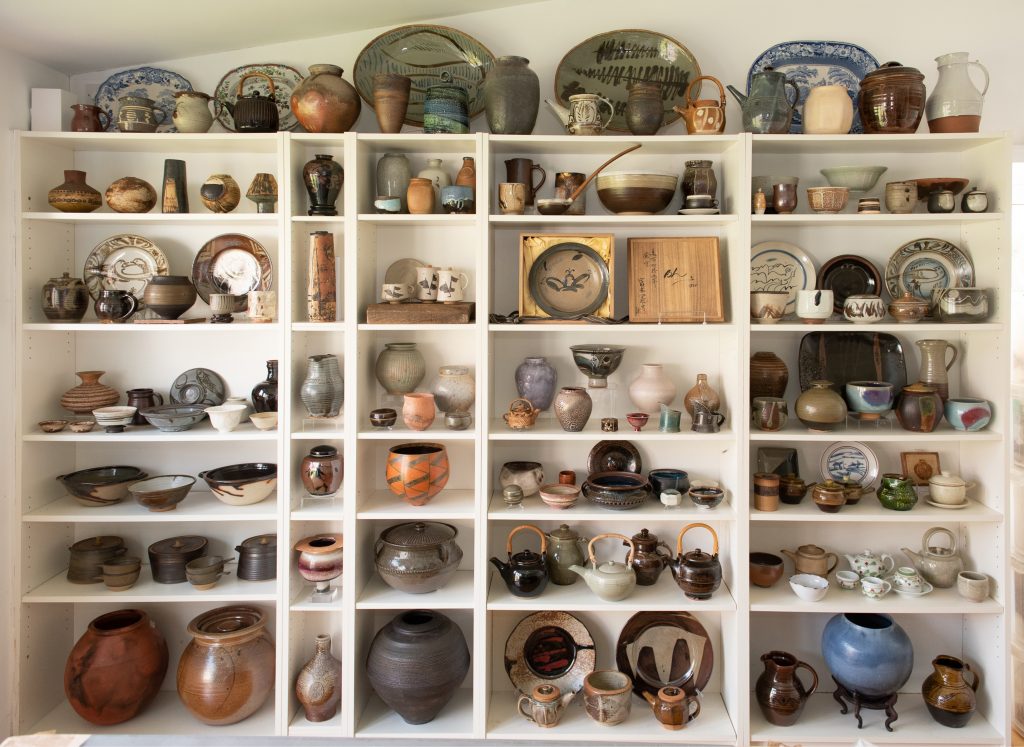 Professor Bell comments:
The Bell Collection shows the evolution of ceramics in Britain, demonstrating the refinement of aesthetic and cultural sensibilities over a specific period. The ceramics illustrate the evolution of taste from mass commercialised functional pottery to artisan studio pottery, identifying the emergence of a core of artist potters with international influence. Additionally, the collection tracks the emergence of the concept of "studio pottery" to incorporate originality, design, function, artistry, and aspiration. It represents a cultural fusion of oriental ceramics in the East with the folkware tradition of pottery in the West, drawing attention to the influence of spiritual and ethical values centred on the ceramic object, especially in Eastern philosophy.
Read Varsity's review of our inaugural display.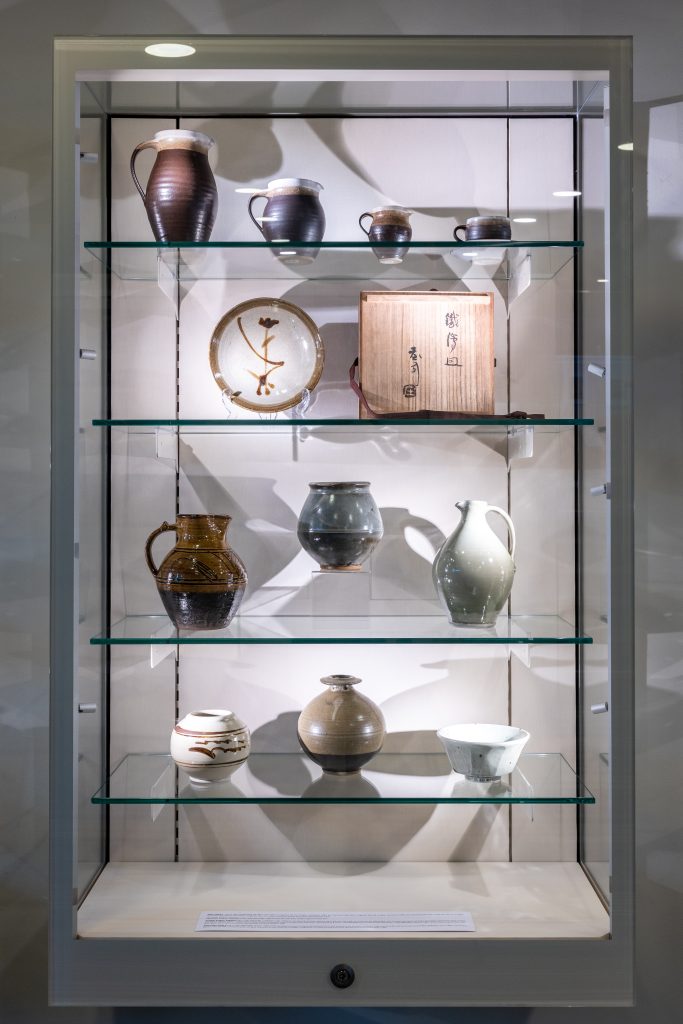 History
The Leach Pottery was established by Bernard Leach and Shōji Hamada in 1920. The pottery remains one of the most influential in the world, and Leach and Hamada were foundational in the early twentieth-century studio pottery movement. At its core, the Studio Pottery movement emphasised the importance of the individual maker's role in pottery, and that a potter should be involved in all stages of making, from conception to final product.
Bernard Leach (1887–1979) is widely regarded as the father of British studio pottery. He did so much through his pots, writings and teaching to advance the cause of this twentieth-century craft across the world. Bernard came to pottery from a fine art background, having trained at the Slade School and London School of Art, where he studied etching under Frank Brangwyn. In 1920, with the assistance of Shōji Hamada, he established a pottery workshop in St Ives, where many apprentices over the next sixty years leaned their craft. His ability as a draughtsman was evident in the fluid marking and decoration of his pots, which was essentially a synthesis of influences – principally from China, Japan and Korea on the one hand, and early British earthenware and stoneware on the other. In 1961, the Arts Council of Britain held a retrospective exhibition in which Bernard was acknowledged as a master craftsman.
Shōji Hamada (1894–1978) was a Japanese potter. He had a significant influence on studio pottery of the 20th century, and was a major figure of the mingei (folk-art) movement, establishing the town of Mashiko as a world-renowned pottery centre. He was a charismatic artist whose prodigious energy and natural ease as a thrower and decorator did much to bring the established language of Japanese form and glazing into the modern age. Shōji developed a particularly fluent stoneware with incised, painted and poured decoration that was both generous and economic – work that gave the materials used a new prominence of their own.
Michael Cardew (1901-1983) was a pupil of Bernard Leach before branching out on his own and acquiring the Winchcombe Pottery in Gloucestershire. Michael's work is exemplified by honesty to materials and function. A retrospective exhibition was mounted by the Crafts Council in 1976 and he was awarded an OBE for his contribution to British ceramics.
Marianne de Trey (1913-2016) was one of the pioneers of the British functional studio ceramics movement. Through her tablewares, role as a teacher and the decorative pieces she continued to make into old age, de Trey contributed significantly to the British crafts revival. Her fine, often exuberant tablewares are among the signature forms of post-war ceramics.
Robert Fournier (1915-2008) was as well known for his many distinguished reference books as his inventive ceramics. He trained at the Central School of Art under Dora Billington, before establishing Ducketts Wood Pottery in Hertfordshire in 1947, making slipware, tin-glaze and mosaics. A year later he set up the pottery department at Goldsmiths College. He worked together with his wife Sheila Fournier whom he married in 1961, producing repetition tableware in stoneware, at London, Kent and eventually at Lacock. They set up the archive of the Craft Potters Association, which formed the basis of the Ceramic Archive at Aberystwyth. They also made a number of films with John Anderson.
Janet Leach (1918–1997) was an American studio potter. After studying pottery at Black Mountain, North Carolina under Shōji Hamada, she travelled to Japan to work with him. She was the first foreign woman to study pottery in Japan, and only the second westerner. After returning to the US from Japan, in 1955 she married Bernard Leach, whom she had earlier studied with. They returned to the UK to operate the Leach Pottery together. Janet continued to be influenced by Japanese aesthetics in her pottery and ceramics, and in 2006 there was a major retrospective of her work at Tate St Ives.
Tatsuzo Shimaoka (1919-2007) lived and worked in Mashiko. Originally, Tatsuzo studied pottery at the Tokyo Institute of Technology and then apprenticed under Shōji Hamada before establishing his own kiln and complex in Mashiko in 1953. From 1950 to 1953, Tatsuzo worked at Tochigi Prefecture Ceramic Research Centre, where he developed many of his signature rope inlay decoration techniques. From the 1960s to the '80s, Tatsuzo traveled around the world and was invited to exhibit in North America, Asia, and Europe. In Japan, he was given many awards for his distinguished work and contribution to traditional Japanese folk art. The technique of jomon zogan (rope-impressed inlay) earned him the honour of Japanese Living National Treasure in 1996.
William Marshall (1923-2007) was the Leach Pottery's first apprentice. He was responsible for overseeing the standard ware, as well as the training of the young apprentices who passed through, soon becoming Bernard Leach's 'right-hand man', assisting with the making of some of Bernard's larger and more complex pots. By the 1950s he had developed his own work, distinct from Bernard's, yet influenced by Japanese aesthetics. He left the Leach Pottery in 1977, two years before Bernard's death, to set up his own pottery in Lelant, establishing himself as a master potter in his own right.
Ladi Kwali (1925-1984)'s generous functional pots included her memorable coiled and beaten water jars and other hand-built pieces. They had a strong sense of Nigerian heritage, while later pieces showed Michael Cardew's influence. Ladi Kwali came from Kwali, a village of traditional potters producing coiled work. In 1954 she joined Michael's pottery at Abuja, learning to throw, glaze and use slips on stoneware. Her more ambitious coiled pieces were enlivened by freely executed geometric and abstracted figurative decoration (lizards, snakes, birds, fish, crocodiles etc). Her work was an effective bridge between African and European influences.
Alan Wallwork (1931-2019) was one of Britain's most distinctive potters, known for sculptural work that was important in the story of studio ceramics. For Alan, clay was the ideal expressive medium for organic and preternatural objects that explored forms in nature and the landscape, such as gourds, seeds and fossils, as well as archaic and totemic shapes from early human history. He studied pottery in Buckinghamshire and won eligibility for a one-year course at Goldsmith's College, and studied pottery under Kenneth Clark and Gordon Baldwin whose attitudes influenced him.
Seth Cardew (1934-2016) was a celebrated potter, musician and sculptor. In 1971 he joined his father Michael at Wenford Bridge and started potting in earnest in 1974. On his father's death in 1983, by which time he had established himself as an important potter in his own right, he took over Wenford Bridge. His magnificent platters, bowls and large jars had grace and balance, and he could paint freehand with breath-taking fluency on pots, developing and enriching designs pioneered by his father.
When Richard Batterham (1936-2021) arrived in St Ives in 1957, his trial went well, and he moved on to a two-year apprenticeship at the Leach Pottery. He became one of the most revered potters of his time, cultivating an instantly recognisable family of forms and a distinct making practice which set him apart. His pottery has been exhibited globally.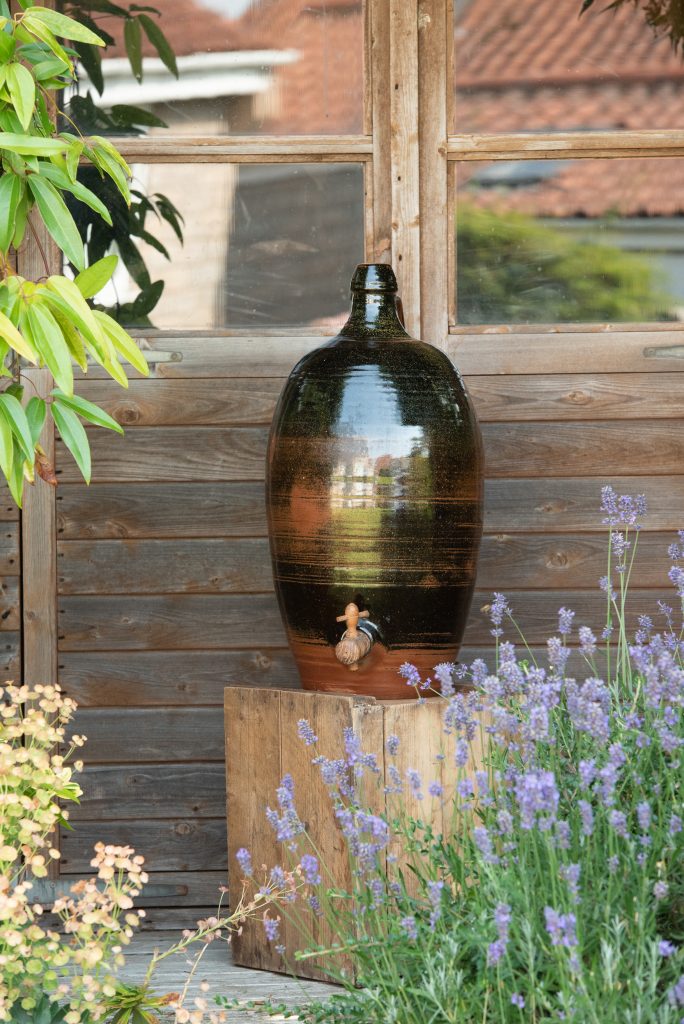 Further exploration
The Fitzwilliam Museum, a 20-minute walk from Clare Hall, has a wonderful selection of contemporary ceramics, while holding one of the most important collections of European, Middle Eastern and Far Eastern ceramics in the United Kingdom.
Head over to Kettle's Yard to enjoy their selection of Leach Ware and current exhibitions.
Further afield, the Centre of Ceramic Art, York, displays the largest and amongst the most important collection of British studio ceramics in the UK, covering the entire British studio ceramics movement.
Clare Hall Ceramics Management Board members
Alan Short (Ceramics Management Board Chair; President of Clare Hall; former Professor of Architecture, University of Cambridge)
Frances Spalding (Art Committee Chair; Emeritus Fellow; art historian and biographer)
Erma Hermens (Fellow; Director of the Hamilton Kerr Institute for Easel Painting Conservation and the Conservation and Science division, Fitzwilliam Museum)
Paul Joannides (Life Member; Emeritus Professor of Art History, University of Cambridge)
Godfrey Worsdale (Director of the Henry Moore Foundation; formerly Director of the BALTIC Centre for Contemporary Art)
Helen Ritchie (Senior Curator of Modern and Contemporary Applied Arts, Fitzwilliam Museum, Cambridge)