Women's History Month: University article series highlights Sarah Gough's impactful allotment projects
Sarah Gough, a PhD candidate at Clare Hall reading Cancer Immunology, and a final-year PhD researcher at Cancer Research UK (Cambridge Institute), features in an article series published by the University of Cambridge to mark Women's History Month.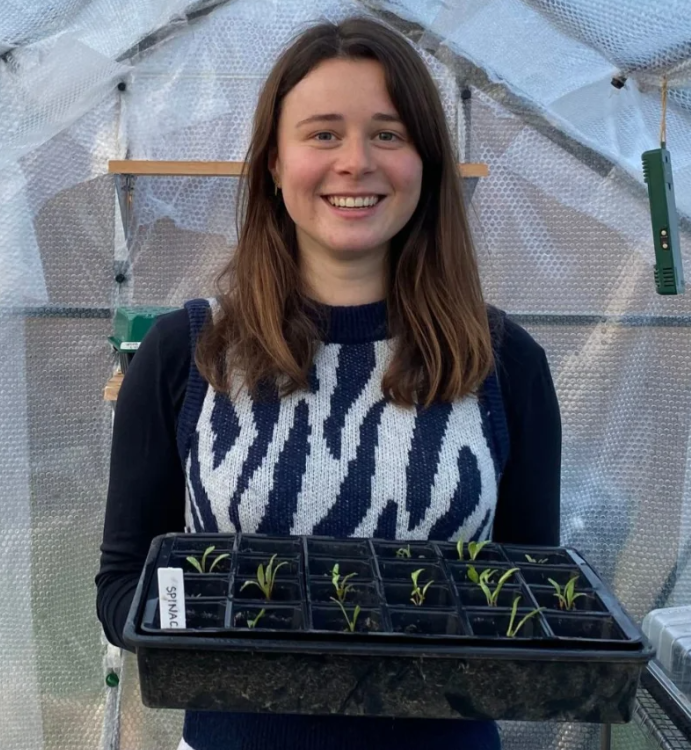 Sarah's research investigates the interaction between senescence, early-stage liver cancer and the immune system. She is also the founder of Clare Hall's community allotment which operates on permaculture principles. This led to co-founding the University of Cambridge Allotment Society to bring all those involved in college allotments or interested individuals together.
Founded during the pandemic in 2020, Clare Hall's community allotment is a space to grow seasonal fruits and vegetables with zero food miles, while improving mental and physical wellbeing. Since then, the initiative has donated surplus produce to local charities and secured several grants to improve its sustainability from organisations like Cambridge Zero and Green Impact, with a focus on seed saving and water conservation.
Through Cambridge Hub's 'Engage for Change' programme, Sarah is now expanding their spent coffee campaign where allotmenteers compost used grounds from local businesses, which would otherwise end up in landfill, to showcase a circular economy. Additionally, through her Green Officer position on Clare Hall's Graduate Student Body Committee, she is actively campaigning against a busway proposal in order to protect the green belt south of the allotment.
She comments:
My five years at Clare Hall have been incredibly transformational as a woman in STEM and founder of the Clare Hall Allotment and the University's Allotment Society.
After her doctorate, Sarah plans to set up a fully sustainable allotment restaurant advocating plant-based, seasonal eating, inclusivity and food justice, close to her family in Glendevon, Scotland.
Read Sarah's advice and contributions to the accompanying Women of Cambridge 2023 playlist, together with the full collection of profiles, at https://www.cam.ac.uk/stories/celebrating-cambridge-women-part-three