Intimate Engagements concert series 2022/23
Date: Saturday 24 June 2023, 7.30pm
Join us for a series of spellbinding Intimate Engagements concerts.
Intimate Engagements is a chamber music series in which outstanding musicians accompany their performances with informal presentations, sharing with the audiences their musical journey of the programme performed. The series started in 2008 and has since then established itself as a uniquely enjoyable and stimulating contribution to musical life in Cambridge.
This year's series explores a wide range of styles and periods. We open with a recital of classical and romantic German music, followed by two chamber music concerts juxtaposing some of the most important works of the 20th century with contemporary works, including a premiere by Cambridge-based composer Jeremy Thurlow. Finally, we enjoy a performance by a soprano duo known for the purity and blend of their voices. We are very grateful to our Music Angels, without whom this series of concerts would not be possible. Thanks to their generosity, Clare Hall is earning a reputation for its exceptionally high quality concerts. We look forward to welcoming you to this series.

Patrick Hemmerlé, Artistic Director
There is one remaining concert in this series:
(Thomas Kelly gave a recital on 5 November 2022, which was the first in this year's series; followed by a concert by Jeremy Thurlow, Poppy Beddoe, Henry Chandler and Tim Lowe on 4 March 2023).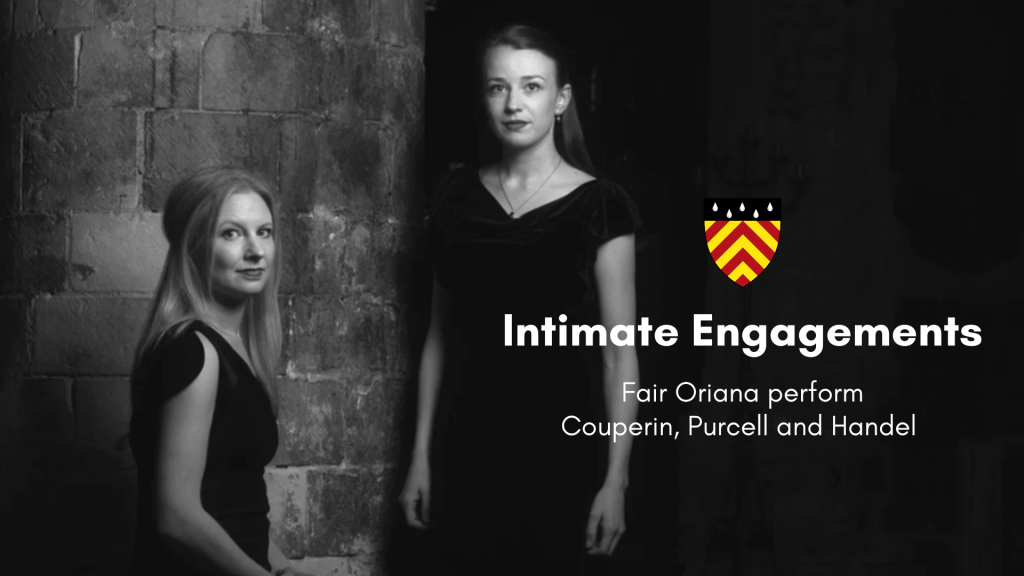 24 June 2023: Fair Oriana
Please note that this event is taking place at Robinson College Chapel.
Tickets
£20 General Admission, £15 Clare Hall members, £5 students and children – please purchase via Eventbrite
Programme
Couperin – Leçons de ténèbres
Purcell – Morning Hymn, Evening Hymn, The Entrance of Night
Handel – Eternal Source of Light Divine, Hide me from day's garish eye, As Steals the Morn O Sleep, why dost thou leave me
Angela Hicks and Penelope Appleyard, sopranos; Harry Buckoke, viola da gamba; Jonatan Bougt, theorbo; David Wright, harpsichord.
Fair Oriana are a soprano duo known for the purity and blend of their voices. They specialise in singing an historical repertoire, in collaboration with regular teams of instrumentalists, performing chamber concerts with a hint of theatre. Couperin's Leçons de Ténèbres are composed of three pieces to be performed for the liturgies of Holy Week. Each Latin verse, from the Book of Lamentations of Jeremiah, is preceded by a melisma on the first letter of the Hebrew text. The first two were composed for one single voice, while the third was written for two voices. This last Leçon, where the two voices perform superb appoggiatura, ornaments, dissonances and vocalising, is considered one of the undisputed peaks of Baroque vocal music. The songs by Purcell and Handel are well known and present a lighter, more secular side to the evening's programme.
Thank you
This concert series would not exist without the continuing support of our Music Angels, and we are immensely grateful for their contribution over the years. If you wish to support Intimate Engagements, we would like to hear from you, and you can contact Patrick Hemmerlé, Artistic Director of Intimate Engagements, at pianopat85@gmail.com or Clare Hall's Alumni and Donor Relations team at development@clarehall.cam.ac.uk.
Intimate Engagements is largely funded by donors, which allows Clare Hall to pay the musicians a fee that is competitive and appropriate to their standing in the musical world.
Useful information
---
Non-College members can join our events mailing list to be the first to hear about upcoming concerts, exhibitions and lectures at Clare Hall:
---